Welding machine donation
09 March 2017
ESAB has donated a Thermal Arc Fabricator 252i welding machine and Tweco Fusion 250 MIG welding torch to Key Enterprises, an independent Registered Charity based in North Tyneside that provides purposeful occupational training and support for people with mental health problems, learning disabilities and learning needs.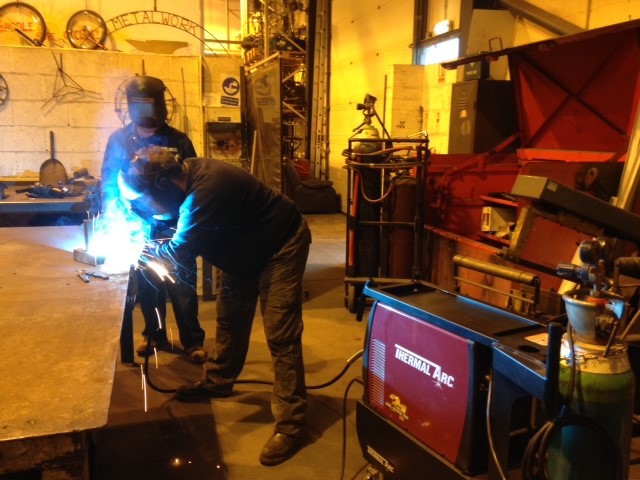 The charity had needed a new welding machine for several years but, because of a lack of funds, was unable to purchase one. The machine provided free of charge by ESAB has made a substantial difference to the charity's trainees in the metalwork department.
Key Enterprises offers vocational training course in realistic work settings. As well as metalwork, the charity also runs courses in woodwork, furniture renovation, horticulture, IT/reception skills, bicycle maintenance and kitchen/catering. Furthermore, the charity provides a number of products and services such as custom metalwork and wooden products, refurbished bicycles and gardening services.
Within the metalwork department, welding is very important. Unfortunately the old transformer-style 170A welding set had become very unreliable, so the charity had wanted to replace it for several years. Initially Gary Smith, the Metalwork Supervisor, contacted ESAB who suggested that they could donate a Fabricator 252i from the Victor Technologies Thermal Arc range (Victor Technologies is now part of the ESAB Group).
The Thermal Arc Fabricator 252i is a modern, compact, portable, inverter-based welding power source that can be used for MIG, DC TIG and stick (MMA) welding, though Key Enterprises will initially be using it only for MIG, hence ESAB also provided a Victor Technologies Tweco Fusion 250 MIG welding torch. Thanks to the inverter technology, the new welding machine is far more controllable than the one it is replacing, plus it is more powerful.
Gary Smith comments: "We are using the Fabricator 252i for both training and fabrication of custom metalwork and it is 100 per cent better than the old welding machine. Also, the old machine was repeatedly breaking down, so having a reliable piece of equipment is such an asset."
Lisa Donnalley, Operational Manager at Key Enterprises, adds: "We are extremely grateful for ESAB supplying this machine free of charge, as we didn't have the finances to fund it ourselves. It is wonderful to receive high-value equipment that is benefiting both our trainees and the production of custom metalwork that generates income for us."
OTHER ARTICLES IN THIS SECTION