ARTICLE
Portable multi-process welding machines
14 March 2018
ESAB Welding and Cutting Products has introduced its Rebel 235ic Series of portable multi-process welding machines to expand the Rebel 215 series, which it introduced last year.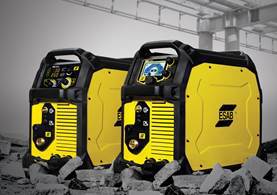 Rebel 235 offers multi-process functionality, including MIG/MAG, TIG and MMA. Weighing only 24 kg and with a 235-amp rated output at 40% duty cycle, Rebel 235ic is said to have the best power-to-weight ratio in its category.
"Our goal with Rebel 235ic was to let operators weld a wide range of applications and metal thicknesses from 0.8 to 9 mm," says Martin Freibergs, Business Product Manager Industrial/Light Industrial Product Systems, ESAB. Rebel 235ic covers the full range of 0.8 mm solid wires in both short arc and spray arc transfer. This allows users to take the full advantage of 0.8 mm solid wire for increased throughput and productivity. It handles 0.6 and 0.8 solid wires beautifully for thin-gauge work, and it also welds with 1.2 mm solid wires and 0.8 to 1.2 self-shielded and gas shielded cored wires. In addition, the multi-process Rebel EMP 235ic handles MMA electrodes up to 4.0 mm and offers TIG welding with Lift TIG ignition.
"Rebel 235ic's Flux-Cored capability will appeal to steel fabricators who want to use products such as ESAB's Dual Shield wires," adds Freibergs. "ESAB Dual Shield wires have excellent all-position capabilities, high deposition rates and excellent bead appearance, along with traditional gas-shielded cored wire benefits." The machine holds 200- or 300-mm. wire spools, features dual gas ports with solenoid valves for TIG and has multiple trolley options..
Rebel 235 meets the needs of fabricators who need maximum flexibility when moving a welding machine around the shop or working in the field, as the machine automatically detects the correct single-phase input power (50 or 60 Hz) from 90 to 270V. Rebel 235ic comes wired with a 230V plug.
Traditional welders in the 200- to 250-amp category are typically single-process MIG machines that weigh about 90 kg. Users have difficulties moving these machines around the shop with built-in wheels and occasionally require a mechanical hoist or heavy machinery such as a fork truck to get in tight, hard-to-reach areas, resulting in excessive down time. With Rebel 235ic, ESAB is redefining this class of welders, one that is truly portable, powerful and multi-process.
Rebel 235 features ESAB's exclusive sMIG (smart MIG) technology that enable users to begin MIG welding – with an extremely stable arc – just by setting metal type and thickness and wire diameter. The advanced TFT/LCD color display helps users access operating instructions, an owner's manual, a parts list and enables switching between two operating modes: Basic Mode to simplify operation or Advanced Mode adds a full-suite of professional-grade arc controls.
OTHER ARTICLES IN THIS SECTION