Welding equipment website
08 April 2015
Extractability, a UK based 'one stop source' for all welding fume extraction solutions and division of Weldability-Sif, is inviting visitors to explore its new website, which has been designed to showcase the company's signature clean cut, accessible output.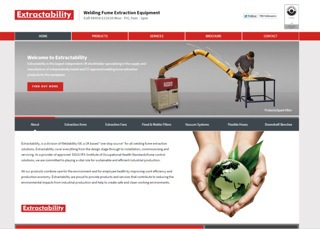 Created with the aim of maximising ease of use for users, the site includes extensive and enhanced product information pages with improved images, technical information and videos. Each of these is linked to the company's main E-shop. This, in combination with a new, easy to use contact page, makes for a user-friendly experience for customers.
Every page makes use of improved drop down navigation menus to provide greater user functionality, helping to locate more information with fewer clicks.
The services section has been updated and given its own web page on the modern, uncluttered new website, which can be viewed at www.extractability.eu/
OTHER ARTICLES IN THIS SECTION