ARTICLE
Fume control
23 October 2014
The Health & Safety Executive (HSE) is working with industry to raise awareness of the risks associated with the inhalation of workplace welding fume and the implementation of good practice and actively seeking conformity to current COSHH regulations.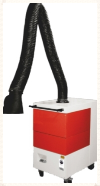 Extractability says it can provide a full range of at-source, fume control solutions. These include: Mobile filtration units; Fixed workshop installations
; and Personal PAPR systems
. 

In addition, Extractability can offer its annual TExT service to provide compliance to COSHH regulations and an air monitoring service to highlight any fume control requirements.
 

To arrange a free site survey, to ensure that you are fully compliant with COSHH regulations, call 0845 862 2620.
OTHER ARTICLES IN THIS SECTION