Safe storage assured
29 June 2015
Securikey has further expanded its comprehensive range of physical security products with the new Secure Stor range of security cabinets.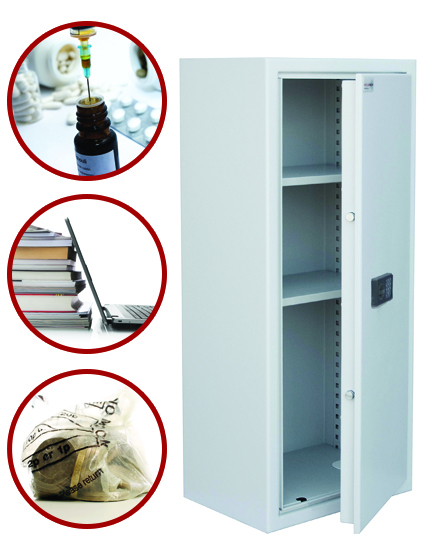 Independently tested and certified for peace of mind, the Secure Stor range is suitable for storing large, bulky items in commercial environments such as hospitals, schools and retail premises.

The high quality security cabinets are fully tested to EN 14450 S1 by leading testing house VdS and are also Sold Secure approved, giving independent assurance of their optimum reliability. Manufactured using robust 3mm steel, the Secure Stor features hardened steel plates that have been added to protect all potential attack areas and incorporate a 3 way locking system for additional security.

Available in five sizes, all models are fitted with a double bitted key lock as standard or, if required, Securikey can deliver cabinets fitted with an electronic lock to allow straightforward access for more than one authorised user.

As a result of its high quality build, the Secure Stor is suitable for storing important or valuable items such Controlled Drugs (CD) in hospitals, examination papers or electronic equipment in schools, and bags of change in retail stores.



OTHER ARTICLES IN THIS SECTION