Personal air sampling pumps
05 May 2015
Svantek has added Gilian personal air sampling pumps from US-based Sensidyne to its portfolio of occupational health and environmental noise and vibration monitoring instrumentation.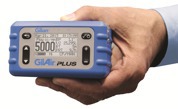 Reinforcing the company's commitment to further growth in the UK, this expanded product range will include the high performance GilAir Plus, specially designed for simultaneous high and low flow personal measurement of particulates, vapours, gases and metal fumes.
The compact, lightweight and versatile GilAir Plus offers an impressive air sampling range from 1ml/min up to 5000ml/min – without the need for any external adapters. Designed for worker comfort, it operates with all common media, offers multi-language capability and has an outlet port for bag sampling.
With patent pending QuadModeSM air sampling technology, the GilAir Plus can perform both high-flow constant pressure and flow (450-5000 cc/min) and low-flow constant pressure and flow (20-499 cc/min) with a single pump. Other key features include selectable automatic fault recovery, standard temperature and pressure correction and a real-time clock with data-logging.
The GilAir Plus dock provides charging and communication functions for the STP and datalogging models. Once docked, the PC application allows users to review datalogs, generate sampling reports, manage sampling programmes, and create pump set-up profiles that expedite deployment of large pump fleets.
OTHER ARTICLES IN THIS SECTION