Summer of safety campaign
19 August 2015
Mid Wales-based Contact Attachments has launched its dedicated 'Summer of Safety' campaign and is now inviting all forklift attachments users across the UK to call upon the company for a free Thorough Examination, to ensure they comply with the latest health and safety regulations.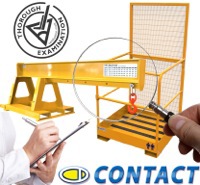 Similar to a car MOT, the Thorough Examination is a legal requirement under health and safety legislations LOLER 98 and PUWER 98 and is carried out to ensure all components of a forklift attachment have been formally assessed and inspected. The process is separate to the EC Declaration of Conformity, and a report following the examination must be kept by owners.
David Manuel, technical sales at Contact Attachments, explained: "We're thrilled to be launching our Safety of Summer campaign free throughout August. Although any forklift attachments bought from new from a respected provider should already be tested and compliant with the relevant legislations, there is still a legal requirement to have them regularly checked and assessed."
As a CFTS accredited company, the team at Contact Attachments will be providing the service free of charge across the course of the month regardless of whether the product has been manufactured by them. The inspection is anticipated to take up to seven working days, and once complete, Contact Attachments will supply a certificate and current report as evidence that the piece of equipment has passed, as well as a CFTS stamp of approval highlighting its next scheduled test date.
"Even brand new attachments, which should be supplied CE marked and with a Conformity certificate, will need to undergo this exam after the first year of service, or in the case of man riding attachments, after the first 6 months of service," David added. "If attachments we test throughout August don't pass, we are required by law to notify the owner and if posing a significant risk to safety, also inform HSE the reason for its failure."
OTHER ARTICLES IN THIS SECTION