Prepare to plough through winter
14 October 2019
Contact Attachments reports an uplift in sales for its winter products from businesses eager to beat the adverse weather conditions the UK could shortly face.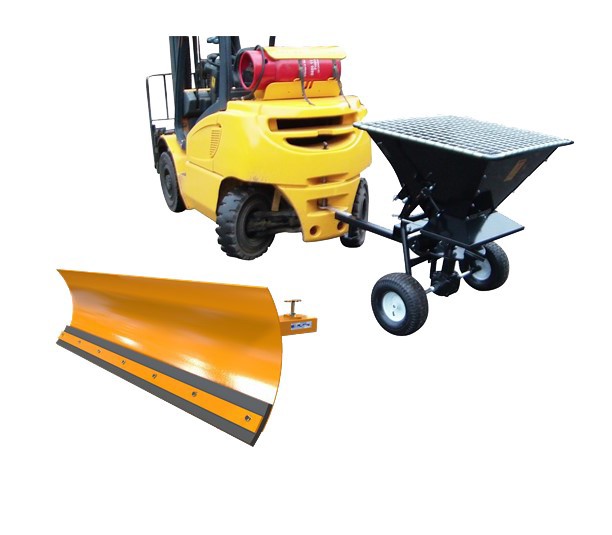 The company's winter range includes forklift snow ploughs, available in three different types: the Adjustable Blade which allows users to adapt their direction of sweeping; the Fixed Blade which is permanently angled to move snow to one side; and the Sprung Loaded Blade which absorbs shock and adjusts to hidden objects such as raised manhole covers.
The snow ploughs are suitable for heavy-duty locations such as warehouse yards, car parks and roads, while the company's 'V' shaped pedestrian plough is suitable for smaller-scale environments such as pavements and walkways.
Dave Manuel, technical sales director at Contact Attachments, says: "We've now said goodbye to summer in the UK and with the weather being so unpredictable during autumn and winter, we're already seeing businesses stock up on their winter products as part of their weather strategy.
"Heavy snowfall and ice can be a big obstacle for many businesses, with many finding themselves ill-prepared, having to close their doors and lose out on valuable business. Having a snow plough attachment or salt spreader at the ready to remove risk factors that the colder conditions bring means companies can eliminate the worry and financial pressures of not being able to function properly throughout the winter."
All of Contact's snow ploughs are quick and easy to fit both on and off forklifts via zinc-plated safety screw clamps, and as they have no moving parts, benefit from low maintenance and servicing costs, while the pedestrian and towable salt spreaders can be used without any specialist equipment.
The company has been designing and manufacturing forklift truck attachments from Newtown, Mid Wales, for more than four decades.
OTHER ARTICLES IN THIS SECTION