Operational efficiency lifted
17 August 2016
A 20-tonne capacity CXTD double girder crane supplied by Konecranes is helping Norfolk-based Conductor Installation Services (CIS) realise greater operational flexibility and production efficiencies.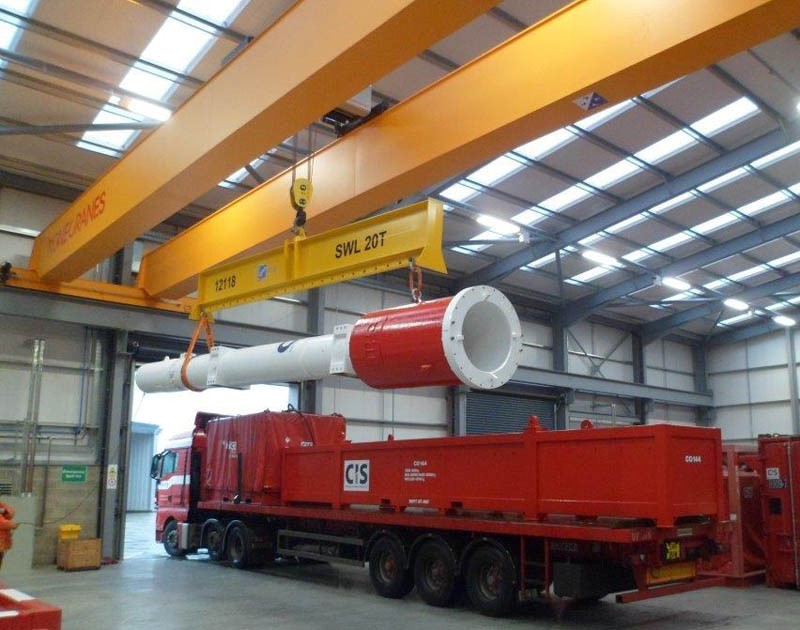 Installed in the company's new purpose-built head office and 1800 sq m workshop facility located at Beacon Park, Great Yarmouth, the crane system is being deployed to facilitate the movement of conductors and hydraulic impact hammers around the workshop area. These are utilised worldwide to create foundations for new oil and gas wells, platforms, subsea structures, bridges and jetties. The crane installation also enables CIS to complete the loading of such equipment within the confines of the facility, prior to transportation for shipment via road.

Neil Batty, CIS Group QHSE manager, said: "Not only does the new crane obviously have the capacity to meet our lifting requirements, both current and projected, it now means that hammers, conductors and piles can be loaded indoors and with much greater speed and efficiency. Previously this operation was carried out by hiring in a mobile crane, which was not only costly and less efficient, it meant the whole process had to be undertaken outdoors."

With a span of 29 metres, the double girder crane is equipped with Konecranes versatile and accurate CXT wire rope hoist and mobile pendant. The latest technology is incorporated for improved load accuracy, versatility, and ease of use, with enhanced safety delivered through the deployment of high-performance brakes and flexible wire ropes.



OTHER ARTICLES IN THIS SECTION