Home
>
New hoist and crane systems for Jaguar
ARTICLE
New hoist and crane systems for Jaguar
02 July 2015
Lifting equipment specialist, Konecranes, has supplied and installed a comprehensive range of hoist and crane lifting systems within Jaguar Land Rover's new flagship Engine Manufacturing Centre (EMC) in Wolverhampton.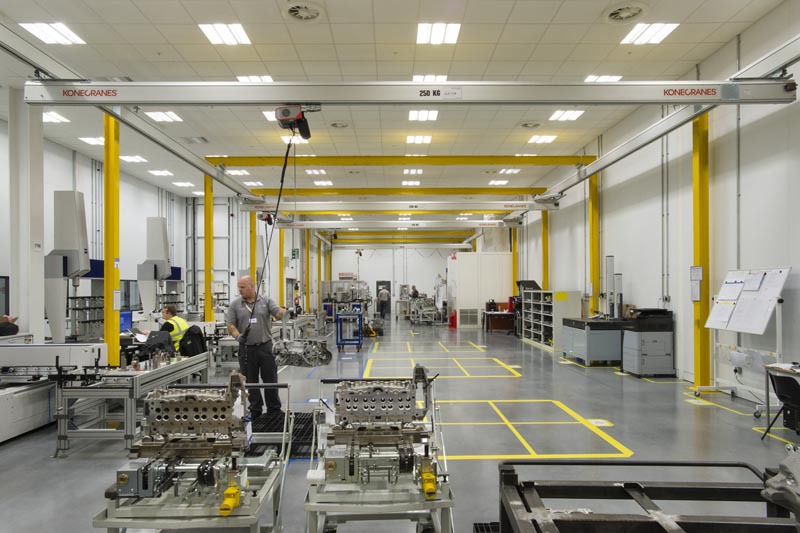 Konecranes has also assumed responsibility for onsite planned service and maintenance programmes relating to the equipment portfolio involved. This process will be supported by some 40 Konecranes service technicians, all of whom are located within only a 20-mile radius of the EMC. 
 

Currently installed within the EMC's machine component and engine assembly halls – home to Jaguar Land Rover's latest generation Ingenium, 2-litre diesel engine – are some 150 Konecranes hoist and crane systems. Standing as a versatile production line lifting solution are 70 free standing XMP pillar jib cranes, each equipped with Konecranes' popular and versatile CLX electric chain hoist that provides a maximum lifting capacity of 250 kg. 


Also figuring prominently across the EMC site are some 80 workstation solutions that centre on Konecranes' new and modular XA lightweight aluminium crane system. Spanning up to eight metres in length, 50 of the stations have been specified with additional CLX chain hoists – also rated to 250kg – whilst the remaining 30 feature Konecranes' ergonomic, ATB pneumatic air balancers. Interfaced with a variety of grippers to provide varying levels of lifting sophistication, using air pressure as the ATB's power source makes the item being lifted appear almost weightless. Not surprisingly, the ATBs are being used to lift heavier components, such as engine blocks, cylinder heads and crankshafts with greater speed and efficiency within the EMC machine hall. 
 

Commenting on behalf of Konecranes, Pat Campbell, Country Director – UK and West Europe said: "We are obviously delighted that Konecranes' lifting equipment solutions have been installed within the Jaguar Land Rover EMC here in the UK. Not only does the facility stand as an important part of the company's strategic growth plans, it is set to be recognised as a global benchmark for manufacturing excellence."

RELATED ARTICLES
No related articles listed
OTHER ARTICLES IN THIS SECTION