ARTICLE
Integrated interface platform
21 October 2015
Lifting equipment manufacturer, Konecranes, is claiming an industry first having developed what stands as a fully integrated customer interface and asset management platform – YourKonecranes.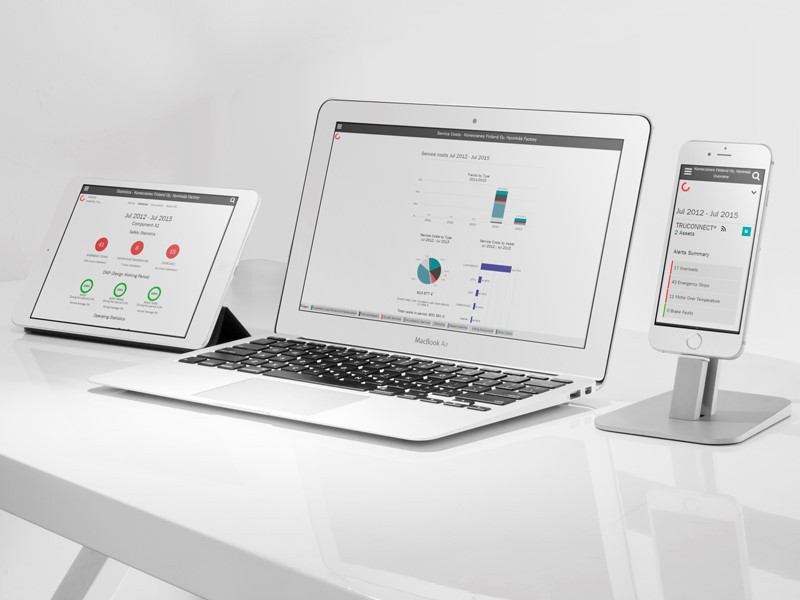 YourKonecranes enables customers to bring together complete lifting equipment inventory information, service data, maintenance scheduling and archived asset related documentation in one, fully transparent location. Where available, it can also be supported by real-time data from Konecranes' Truconnect remote monitoring service.
Aligned to the era of the developing industrial Internet, YourKonecranes is accessible on any device or tablet with network connectivity to provide complete mobility and flexibility, as it seamlessly integrates with a customer's own processes. In order to deliver the best possible customer and user experience, the platform has undergone extensive field trials.
Designed to be user friendly, YourKonecranes' menu driven content and logical, clear and concise screen layout makes navigation and information retrieval straightforward. After logging onto the platform, the user is presented with a main menu of information with a customised date range relating to the system's key features: overview, asset fleet, service calendar, service agreement and service costs. From this point it is possible to create a service request for any specific asset listed within the platform, plus a feedback button, always visible within the main menu, channels customer information directly back to the YourKonecranes development team.
Commenting on the significance of this latest development from Konecranes', Project Leader for the UK, Mo Tarki said: "YourKonecranes is set to revolutionise the way in which a company monitors and manages its lifting equipment asset base. It is an extremely functional tool that presents a wealth of valuable information in one easily accessible location. Feedback from customers who are already trialling the platform is very positive and this largely emanates from the fact thatYourKonecranes is a true, real-time solution relating to asset management and equipment condition monitoring."
MAIN FEATURES
 Overview - Presents the customer with a simple insight into their facility status, namely what is going and is coming up.
 Asset Fleet – Displays basic information relating to each piece of capital lifting equipment. Clicking on each Asset tile then provides additional information, whether service or safety related.
 Asset Info – Includes detailed information such as technical specifications, installation dates and manufacturer information etc.
 Single Asset – Contains detailed information on activity by timeline, safety and usage data, what has happened and what is scheduled to happen.
 Service Calendar – Displays all scheduled services, inducing full service history, month by month or year.
 Daily Service Activity – View service scheduled for the day and their status.
 Service Request – Actioned online that results in email confirmation to the customer in question.
 TRUCONNECT - Assets installed with TRUCONNECT remote monitoring and reporting display usage data and safety alerts that can be viewed within any time range, defaulted to the last 30 days.
 Service Agreement – Displays full agreement information and service products menu, complete with associated asset base.
 Documents – Platform section where all service reports, manuals and the customer's own documents and links can be uploaded and opened from the screen view.
 Cost/Spend Overview – Provides a full service cost history broken down by asset.
OTHER ARTICLES IN THIS SECTION