Modernised crane makes history
03 August 2015
Exemplifying the results that can be achieved through a crane modernisation programme is Konecranes' extensive refurbishment of the river Tyne's most historic Hammerhead heavy lifting crane, which worked on maritime vessels Ark Royal and HMS Illustrious in the golden era of the North East shipyards.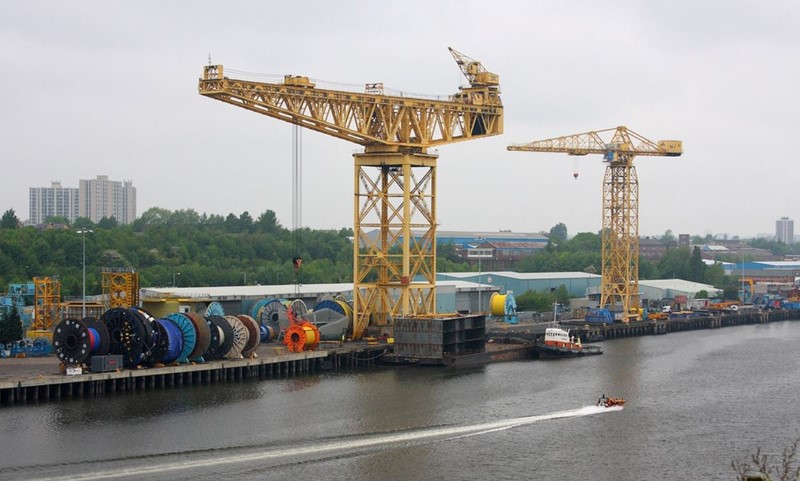 Operated by Shepherd Offshore and located within their Walker Quays Offshore Technology Park, the modernisation work undertaken by Konecranes increased the crane's lifting capacity from 250 to 325 tonnes making it the biggest crane of its kind in England.

Since increasing its lifting capacity, the crane has opened up interest from a wider range of offshore energy customers keen to drive inward investment, whilst substantially reducing logistical costs to local and international manufacturers.

The programme of modernisation was implemented following a 12 month design and feasibility study undertaken by Konecranes and specialist design company, Carlisle-based Des-Cad. The main items brought out by the design study for upgrade covered the bottom block sheaves and block hook. The former were identified as needing roller bearings that were introduced to replace the existing plain bush bearings, whilst the latter was unsuitable for 320 tonne loads. The plain bush bearings of the top sheaves, of which there were eight, were also changed to roller bearings. Additionally, the jib end sheave and surrounding assembly steelwork were replaced, as were the load rope and load rope guide rollers.

Additional technologies deployed as part of the crane modernisation programme included a PAT Kruger load monitoring and overload protection system, and Konecranes' ControlPro & TRUCONNECT remote monitoring system.
OTHER ARTICLES IN THIS SECTION