Upgraded crane safety
18 March 2015
Terex Material Handling's Demag Service team has completed a major refurbishment and upgrade of a Demag crane system at the Cemex cement production facility in Rugby.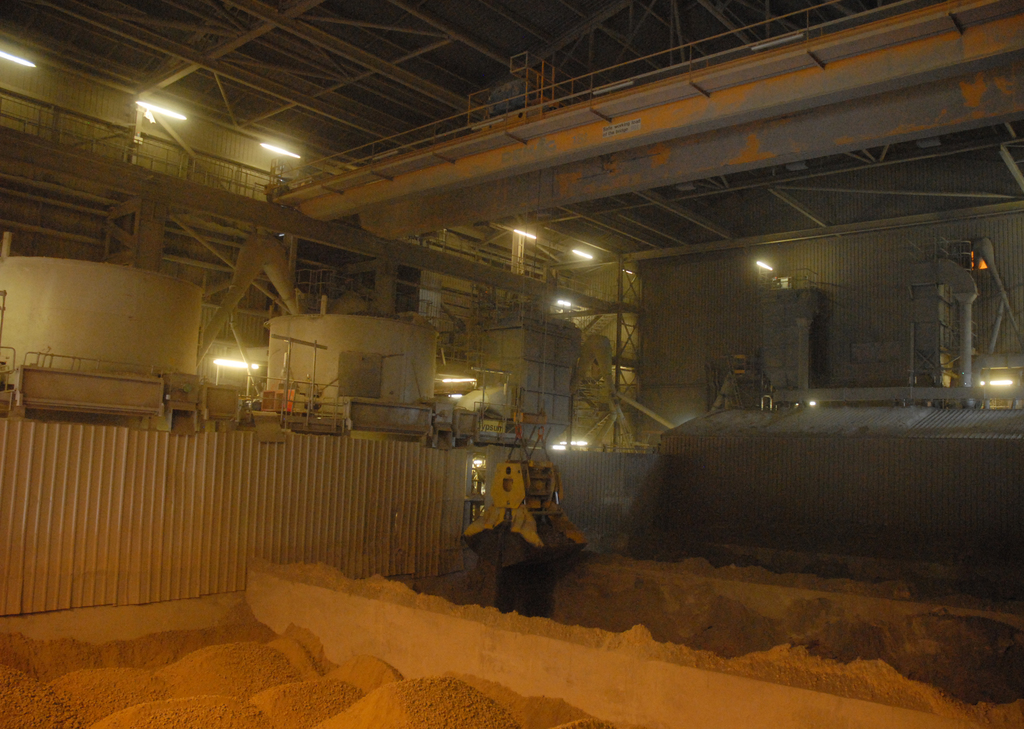 The plant is Cemex's largest UK operation, working 24/7 and outputting over 5,000t of cement per day.
The 28m span, 18t SWL Demag double girder, overhead travelling crane, equipped with a 6t capacity bucket, is situated in the plant's natural gypsum, synthetic gypsum and limestone store. Some 30 lorries per day deliver raw material, tipping it into reception pits. The crane moves material from the reception pits to the appropriate storage bays, before further transfer to the hoppers, which feed the plant's mills via conveyors.
Cemex's operations & technology team recognised that heat and dust in the arduous working environment had been causing system faults. In addition, some of the crane system's components, including the Siemens S5 PLC, were no longer supported by manufacturers. To guard against the risk of critical crane system downtime, which may impact upon production efficiency, Cemex engineers and Demag service technicians worked together closely to engineer a solution to provide improved performance and increased capacity.
The Demag crane's existing controller was updated with a Siemens' S7 PLC, facilitating fully automatic control via an interface with the Cemex master control room. The refurbishment programme also transferred the control systems to a bespoke 8 x 2 m cabin, which had been prefabricated in Germany and delivered to site as a plug-and-go package. The air conditioned cabin has an air seal, minimising the ingress of dust, to protect against damage to the control equipment. The cabin, which is located near the roof of the store also improves safety as technicians are no longer required to operate the system from the crane bridge.
Variable speed drives were also fitted to the Demag crane for smoother travel, reducing bucket sway and minimising the possibility of collision damage to the store's walls. The variable speed drives also provide greater positioning accuracy when depositing raw material in the store bays.
The crane system's cross and long travel speeds were increased to improve productivity and accommodate the additional volumes of gypsum and limestone delivered to the plant. Terex also replaced and updated cross and long travel festooned cables, as part of the upgrade.
Cemex's project team electrical co-ordinator, Robin Page, reported that the Demag Service team had delivered a well engineered solution to meet the specific requirements of the refurbishment, improving performance to meet sustained growth: "The automation and upgrade of the Demag crane system has enhanced our efficiency and production capacity, speeding up the handling of gypsum and limestone. Previously, we often incurred waiting time charges from hauliers, when the material handling system couldn't keep pace with deliveries, but these have now been eliminated."

OTHER ARTICLES IN THIS SECTION