ARTICLE
Fast-action doors
13 December 2017
Stertil Door Products has recently supplied a pair of FlexiEdge fast-action doors to help control temperatures and humidity within the iceSheffield complex in the city's Lower Don Valley.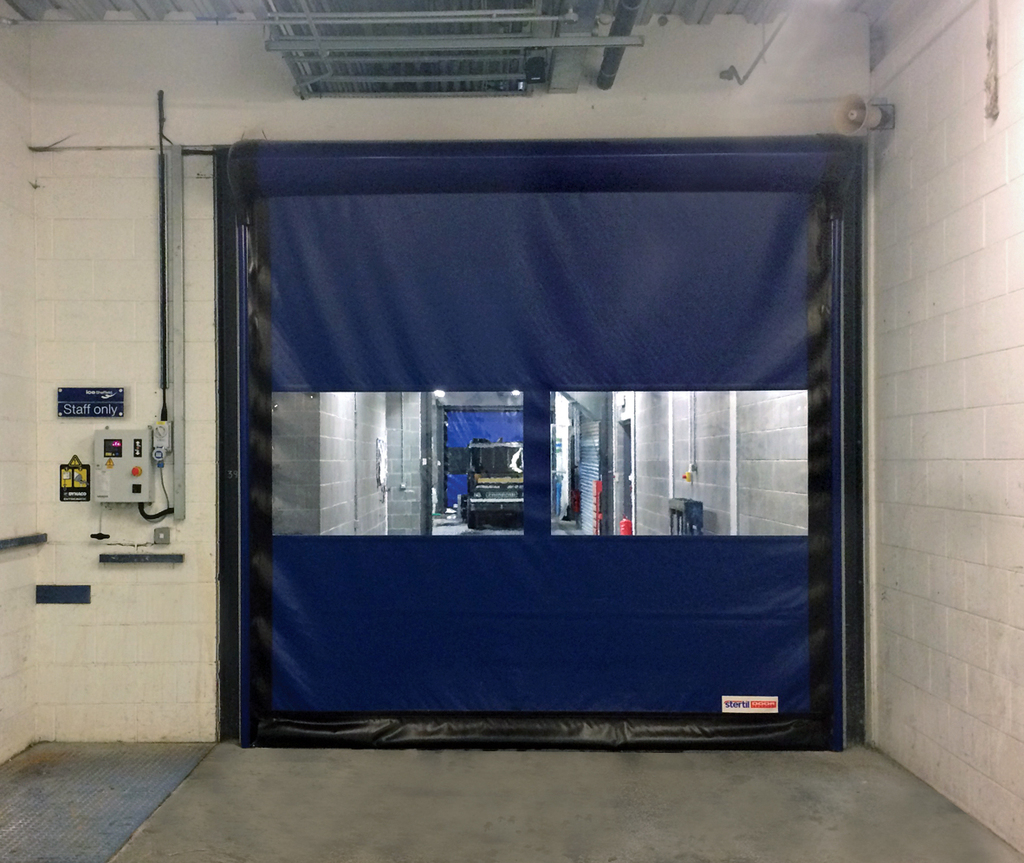 Construction of the iceSheffield arena was completed at a cost of £15 million and consists of two Olympic-size ice rinks. The complex, which is well used by local schools, also provides skating and ice hockey lessons, leisure skate sessions and curling to visitors of all ages and abilities.
To ensure that the iceSheffield rinks are always in optimum condition, it is essential that temperature and humidity are closely controlled. Each of the two FlexiEdge D-313 fast-action doors has been installed to enable the arena's Zamboni specialist ice cutting machine to access and exit the rinks quickly and smoothly. By minimising the time that the doors are open during these procedures, not only are the correct environmental conditions preserved but also expensive energy consumption is avoided.
The FlexiEdge range comprises 16 models of many different types and styles including internal and external doors, all-weather doors, cleanroom and freezer/coldroom doors plus emergency exit doors incorporating breakthrough curtains. Standard models are available in widths up to 11 metres and heights of 5.5 metres whilst bespoke and special sizes may be specified.
FlexiEdge doors are manufactured using top quality materials including galvanised steel for structural strength allied to reinforced polyethylene side guides. The door curtains, which have been developed to offer flexibility and durability, incorporate no rigid elements. A hi-tech manufacturing process involves the insertion of reinforced polyester within a PVC sandwich to produce a high strength yet lightweight door curtain.
Simple operation of FlexiEdge fast-action doors is assured via a user-friendly push button control box incorporating an innovative self diagnosis feature. The range provides standard travel speeds up to 2.7 metres per second (opening) and 1.2 metres per second (closing) to shorten work cycles and increase productivity. Frequency inverter motors and encoders ensure ultra smooth operation whilst a manual hand crank has been incorporated for use in the event of a mains power failure.
FlexiEdge doors have been designed to set new standards of safety. The door curtain is fully flexible with a soft bottom edge which not only self-adjusts to seal on an uneven floor but also avoids any possibility of causing injury to users. In addition, the incorporation of an infra-red photocell, fitted 300mm above floor level, supported by a bottom edge wireless detector ensures instant halting of all door movement in the event of sensing an obstruction of any kind. Also, the flexible soft-edge curtain provides maximum resistance to damage caused by a vehicle collision. If the door edges are knocked out by the collision, they are automatically re-inserted in the side guides as the door opens.
A wide range of activation systems allows maximum versatility of FlexiEdge doors in many different applications. Alternatives to the standard push button pads include wired and wireless pull cords, key switches, induction loops, photocells, radar, radio or infra-red transmitters, presence detectors and touchless hand-wave detectors. Depending on the particular requirements of individual applications, the most appropriate activation method may be specified to ensure that the doors may be used intensively, minimising 'open time' and meeting the needs of the busiest high traffic areas.
iceSheffield specified the two FlexiEdge D-313 fast-action doors at a size of 3.2m wide x 2.95m high complete with a combination of radar and push button controls. This combination allows automatic operation of the doors to facilitate movement of the Zamboni ice cutting machine whilst also providing fast and easy access by pedestrians.
"As a charitable not-for-profit Trust, we have a policy of buying from British companies, so we were pleased that the Stertil FlexiEdge doors offered the quality we demanded at a competitive price," Sean Midgley, energy and environmental manager at iceSheffield, said. "The doors not only ensure constant temperatures and humidity but also help keep our energy costs to a minimum."
OTHER ARTICLES IN THIS SECTION