ARTICLE
Hand safety programme recognised
17 July 2017
Gas turbine maintenance, repair and overhaul specialist RWG has been officially recognised after its 'Handsafe' programme led to an 85% reduction in worker hand and arm injuries.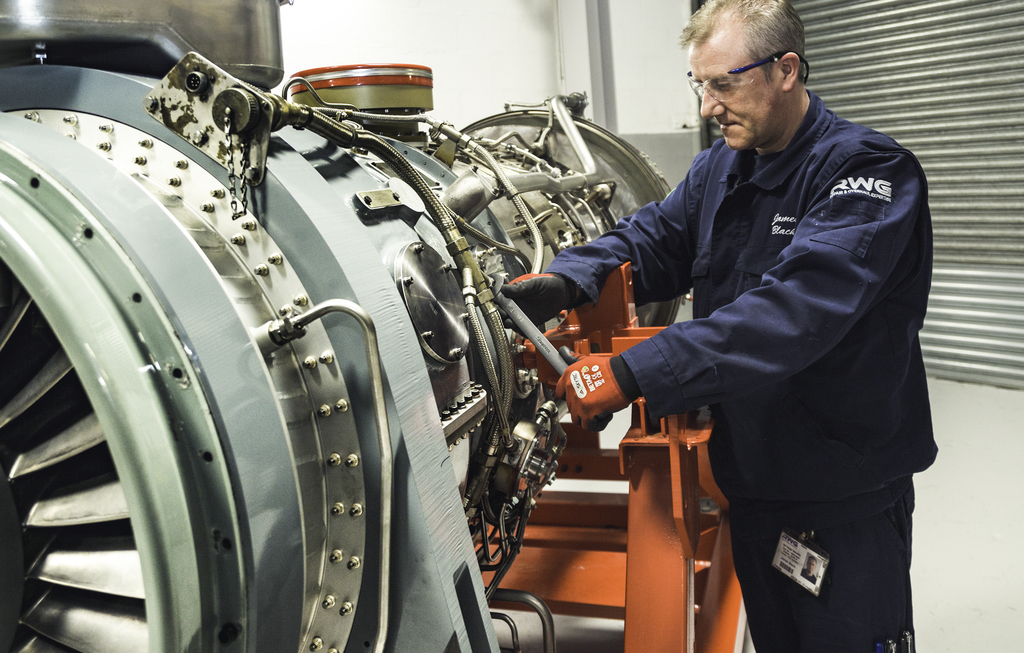 The Aberdeen-based company - which provides maintenance, repair and overhaul services for industrial aero-derivative gas generators and power turbines used in the power generation, oil and gas and marine propulsion industries - has received a 'Safety Recognition Award – For Excellence in the Field of Worker Protection' from hand protection specialists Globus.
RWG received the award – only the third ever to be handed out by Globus – following its continued approach to worker safety through its Handsafe Programme which has had a major impact in helping drive down hand and arm injuries at its Aberdeen headquarters.
With around 300 RWG employees requiring hand protection as a result of the mechanical engineering aspects of the maintenance, repair and overhaul work carried out on site, the Handsafe Programme has been instrumental in developing a positive safety culture to worker safety within the business.
This has seen hand and arm injuries on site reduce from a high of 81 in 2009 to just 11 minor injuries in 2016 all of which required only local first aid treatment.
According to Michael Easton, sales and marketing director for Globus, RWG's dedicated approach to involving staff at every level to help create a positive safety culture, combined with embracing the need to continually evolve and innovate its approach to hand protection was the driving force behind the award.
"Our award for safety excellence was created to recognise truly exceptional worker safety initiatives and that has certainly been the case with RWG. The company recognised as far back as 2002 the need to address hand and arm protection, given the physical impact of the work carried out on site and devised and launched their Handsafe Programme as a result," said Michael.
"Since its launch, the Programme has not only been regularly refreshed and reinvigorated to keep staff at every level of the business engaged, but has become a central part of the RWG culture. We have been working with the management team at RWG to help put in place not just leading hand protection solutions via our Hand Protection Programme but provide a range of evolving training and educational materials. The result is an extremely high level of understanding of the importance of hand protection at every level," he added.
On receiving the award, Jenny Shorrocks QHSE co-ordinator, operations integrity group, at RWG said: "We are absolutely delighted to have received the Safety Recognition Award from Globus. There are many 'short term' Health & Safety initiatives out there, but we really wanted Handsafe to run continually because keeping workers' hands safe is vital to the success of RWG.
"We knew the challenge would be to keep the initiative fun, interesting and innovative in order to keep people engaged and with this in mind, created a 'bottom up' approach to the campaign rather than a 'top down'.
"This has enabled our Handsafe champions to really drive the campaign allowing them to make differences where they wanted to make differences, fully supported by the management team. The Handsafe Champions play a vital role in the effectiveness of the programme and of course their enthusiasm is key to its success, helping create an environment where everyone is working together to help drive down hand and arm injuries," she added.
Jenny also recognised the impact that the Globus approach has had in supporting the campaign.
"We have worked closely with the team at Globus and their support in creating educational materials, undertaking site trials, attending meetings, developing and introducing new solutions and listening to feedback from our Handsafe champions and providing great advice has been invaluable," she said.
OTHER ARTICLES IN THIS SECTION