ARTICLE
Defibrillator partnership
18 May 2016
Mace has installed 100 automated external defibrillators (AED) across its projects and offices as part of a campaign to take its health and safety standards and performance from industry best practice to world-leading.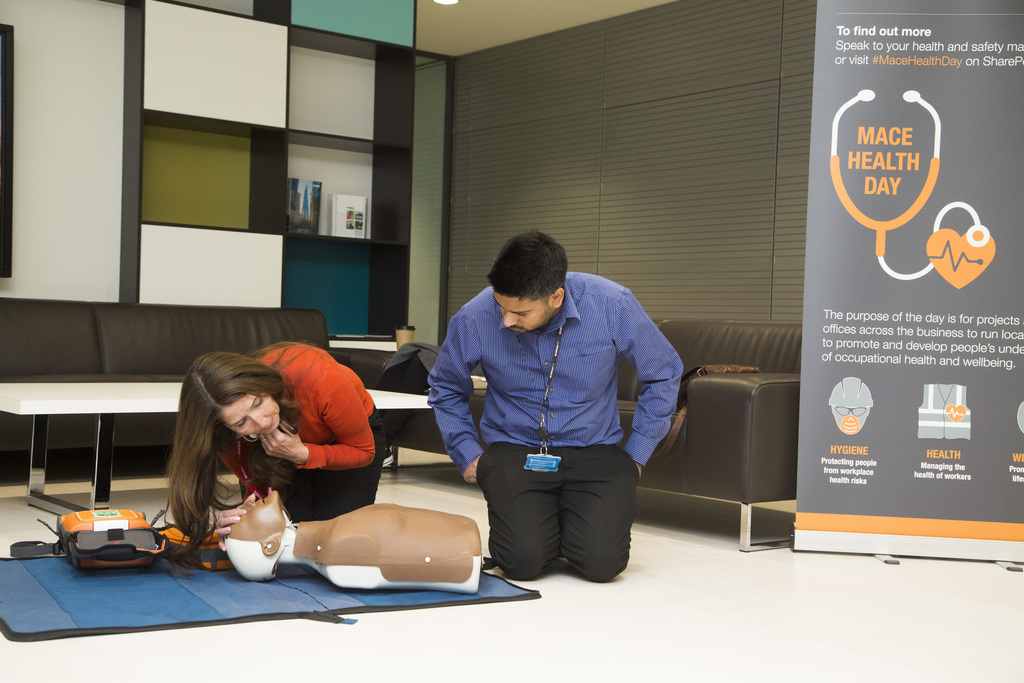 The Powerheart G5 AEDs from manufacturer Cardiac Science will be deployed across Mace sites, including 70 long and short-term projects currently taking place in the UK, to protect its employees and supply chain members in the case of a sudden cardiac arrest (SCM).
Mace is an international consultancy and construction company employing over 4600 people, across five continents with a turnover of £1.49billion. Mace's business is programme and project management, cost consultancy, construction delivery and facilities management and is truly multi-disciplinary with services spanning the entire property and infrastructure lifecycle.
Jennie Armstrong, occupational health lead for Construction at Mace, has delivered a number of health awareness sessions to Mace employees, while the London Ambulance Trust's Tim Chivers has delivered CPR/defibrillator training on site.
The agreement to install the defibrillators is an extension of Mace's new occupational health strategy launched earlier in 2015.
Mace is working closely with the London Ambulance Service to install the Powerheart G5 defibrillators, which are the first AEDs to combine real-time cardiopulmonary resuscitation (CPR) guidance, customised patient therapy and fast shock times.Mace opted for the Cardiac Science unit due to its innovative features, including real-time CPR feedback prompts for effective chest compressions and depth, and variable escalating energy shock capacity.
Jason Millett, Mace's group board sponsor for Health & Safety, explains: "We chose the Powerheart G5 because it's intuitive to use and also has a dual language option, which means it's ideal for our international roll out."
Jason adds: "Mace has set an ambitious five-year challenge to take its health and safety standards and performance from industry best practice to world leading. Our 'Safety first. Second nature.' programme aims to create a culture that lives and breathes health and safety every day."
Hire scheme for AEDs
Cardiac Science and Supply UK have given construction companies a convenient and affordable way of getting hold of AEDs on a short-term basis – perfect to support construction gangs on projects with finite timescales. The Powerheart G5 can be hired on a week by week basis and is then returned when the project is completed. Full training is given.
For more information contact Dave Thomas at Survey and Laser on 0161 223 3400 or email info@surveyandlaser.co.uk
OTHER ARTICLES IN THIS SECTION