ARTICLE
Meeting international demands
09 November 2015
Contact Attachments has supplied one of its forklift attachments to a client based in the United Arab Emirates, to help with heavy bag handling operations.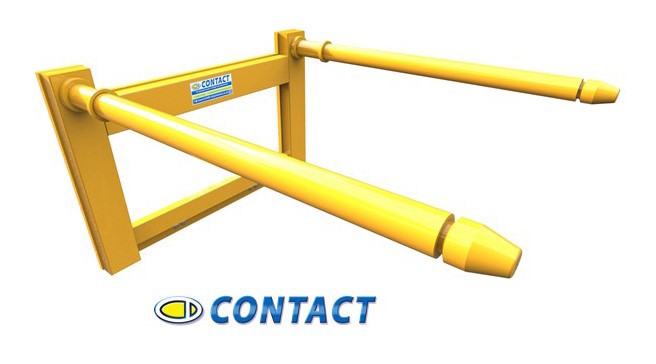 The company's Forklift Bag Handler was called upon by FAMCO (Al-Futtaim Auto & Machinery Company), which in turn supplied the attachment to its own client in the region.
FAMCO, which is part of The Al-Futtaim Group – one of the largest privately owned companies in the United Arab Emirates – and an authorised distributor of Linde MHE products, recognised their client's need for an effective handling solution.
Aamir Khan, assistant product manager at Linde MHE, explained: "Our client previously used forklift forks to handle heavy bags, which was proving to be time consuming, inconvenient and unsafe, so we looked at the services of a reputable company to provide our client with a more stable solution. Having already met a representative of Contact Attachments in Qatar, who introduced its product portfolio, we contacted them again and based on the prompt support and guidance they provided, we quickly placed the order for the Forklift Bag Handler.
"They were very satisfied with the product they received, and pleased to say, are now able to handle heavy bags more effectively, and much safer, than before. FAMCO was kept updated with the production and shipment progress at all stages, and we even received a courtesy call post-delivery from the team to ensure the attachment met our client's requirements."
As the end user was handling bags from 1500x1500mm pallets, Contact Attachments customised its Forklift Bag Handler to meet its precise requirements, with the pole extended to 1,600mm long and an upgrade of the capacity to 1,500kgs.
Dave Manuel, sales and technical director at Contact Attachments, added: "We're thrilled to have supplied Al-Futtaim Auto & Machinery Company with our Forklift Bag Handler. As our products are manufactured here in the UK, and undergo thorough examinations and tests for CE Certification, they are sought after by many large international companies to assist in their own business operations.
"We not only have the experience to provide a diverse range of sectors in the UK with our range of products, but we also export them internationally, whilst providing business support and technical guidance from our site in Newtown, Mid Wales."
Al-Futtaim Auto & Machinery Company is a large well known company in the UAE and is respected for its supply and service of heavy vehicles and machinery, including trucks, buses, construction machinery, marine engines, diesel generators, and material handling equipment.
Contact Attachments has been designing and manufacturing forklift truck attachments from its base in Newtown, Mid Wales, for over 40 years and is recognised as the quality leader of truck attachments in the UK.
OTHER ARTICLES IN THIS SECTION