ARTICLE
Maintaining safety standards
27 March 2015
Allison Tucker, counterbalance product manager at Linde Materials Handling has provided information on how to maintain safety standards in warehouses.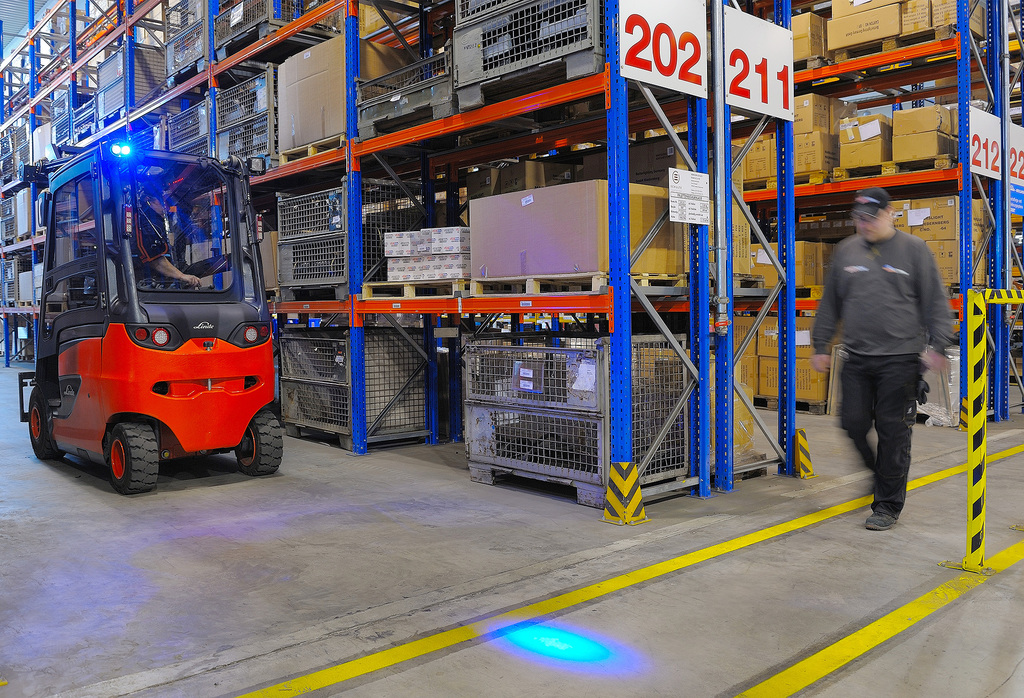 "The Institute of Occupational Safety states that 70% accidents involving forklift trucks are essentially unavoidable," Allison writes. "With pressures on businesses in every sector to meet increasingly tight deadlines, it can sometimes mean that certain safety practices are compromised as a result. Operators may drive faster, become less cautious with stock and be less likely to adhere to usual safety standards in pursuit of getting the job done quickly and delivered on time.
"As a result, human error can often account for accidents at work, causing serious injury along with damage to both loading and operating equipment; and resulting in unwanted disruptions to warehouse operations.
"Driving forklift trucks and working in a warehouse environment carry a certain amount of risk and it's vital that employees are adequately trained to be aware that safety is always the number one priority, and supported by their employers in making that the case.
"The Health and Safety Executive sets out clear guidelines for safety in the workplace and specifies in its Approved Code of Practice and Guidance (L117) that employers must ensure that staff who use, supervise or manage work equipment must have had enough training to recognise safe and unsafe practices and know how to avoid risks.
"Accredited training is the most effective way to ensure proper safety practice in the workplace. A well trained workforce can make all the difference.
"Improving safety in the warehouse improves overall profitability. Investment in ongoing staff training should not be seen as a cost burden. In fact, better practice reduces costs.
"Safer operations can result in savings on fuel bills, replacement parts, maintenance on wear and tear and in the long term, even insurance premiums.
"Investing in the right sort of trucks to suit the application is essential and Linde has developed a number of unique devices to help its customers adhere to the highest possible standards of safety across all its product range.
"The Linde Safety Pilot is an innovative device that is designed to help ensure that operators are not putting themselves in danger through lifting heavy loads at height. The device works by preventing the load lifted on the fork arm from exceeding the approved load capacity.
"It does this by calculating the load centre of gravity and displaying the load weight correctly placed on the fork arms, the current lift height, the tilt angle of the fork arms and the maximum lift height up to which the load may be raised on a display screen at the operator's eye level.
"The system lets off a visual and acoustic warning if the load is in the verge of exceeding its limits and will actively intervene and regulate the truck functions to correct operating errors.
"As warehouses are increasingly being designed to maximise floor to ceiling space, it is common for operators to be operating at heights of about 6 metres. The Linde Safety Pilot will ensure operators can operate their trucks in a safe and productive manner, minimising the risk of accidents.
"Auto engine cut-out switches the engine off when the truck is parked and inactive for a set time, and Linde trucks come with seatbelt interlocks which mean that the truck will not operate unless it is properly fastened.
"Linde's auto-reverse speed reduction aid reduces the operator's speed to 1km per hour which reduces the risk of collisions when reversing. At an agreed point, the speed reduction through the transmission is activated and the system produces audible and visual warnings to surrounding pedestrians.
"Linde is proud to have pioneered the hydrostatic drive system which is now a standard feature across all our engine trucks and while the technology can be replicated, Linde's 50 years' experience cannot. It offers a transmission that is exceptionally responsive and precise, providing safer and more effective braking for optimum safety and comfort.
"The hydrostatic drive brakes the truck by slowing and stopping the flow of oil. Braking performance remains consistent throughout the truck's lifetime. If the operator forgets to apply the handbrake on a slope, the truck will automatically slow down.
"It's not just forklift truck operators who are at risk at work, it's pedestrians in and around the warehouse environment too. Therefore, it's essential that safety training is extended to all staff who may come into close contact with trucks.
"Linde's Bluespot is a visual driving path warning device which enhances pedestrian safety in truck aisles and intersections. Bluespot consists of two energy-efficient, very bright LED lights attached to the truck which project a large blue spot onto the floor a few metres in front of the truck's direction of travel, acting as a warning to pedestrians who may be approaching.
"Vibrations are known to cause operator fatigue and therefore reduced concentration. Linde's trucks are designed to isolate the operator workstation from the chassis to minimise vibration and on the counterbalance trucks, a unique overhead tilt cylinder design ensure that vibrations are dispersed evenly over the whole of the truck.
"When it comes to safety, Linde Materials Handling is at the forefront of the industry. Not only has Linde won awards for its innovative safety features, there is also a focus on developing in these areas in collaboration with our customers in each sector to minimise risk to their staff, equipment and stock and further improve their business.
"There's no doubt about it. Installing proper safe standards and practices pays off."
OTHER ARTICLES IN THIS SECTION