Record apprentice applications
04 February 2016
Industrial truck manufacturer Linde Material Handling has received a record 381 applications for its bespoke apprenticeship programme.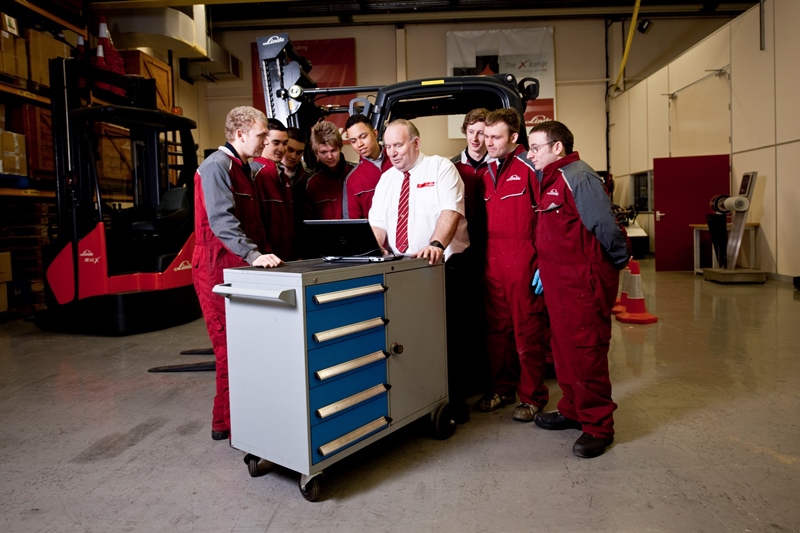 The four-year engineering apprenticeship programmes provided by Linde are offered to 16-19 year olds and are accredited by the Institute of the Motor Industry (IMI), and delivered through BITA and the FLTA.
Under the programme, apprentices receive three years of classroom-based training, specialising in the skills and theory needed to achieve the (IMI) qualification in forklift trucks. At the end of the three years, not only do the apprentices leave with a qualification, but valuable all round experience to help them engage with customers and understand customer's needs and their business.
Technical training manager for Linde Material Handling UK, Rob Evans, said: "We invest heavily in our apprentices which has been recognised and reflected in this year's applications. Young people are now choosing Linde as the place to receive their training and the place to start their career because it is more than just about becoming an engineer.
"I'm responsible for supplying the fork lift truck product training so I know first-hand the hard work that the apprentices have to put in to the programme in order to achieve the recognised IMI qualification. Our apprentices are also required to undergo a total of five weeks BITA block training throughout the year where they receive more practical instruction which will serve them well throughout their careers at Linde."
Apprentices receive individual mentors and online measuring tools by BITA. These tools provide support to apprentices throughout the programme and allow them to monitor their own development and to set new targets.
In their final year, students put the theory into practice through on-the-job training in product maintenance, health, safety and customer service.
In 2015, Linde saw a total of 10 apprentices graduate from the programme and begin their careers as qualified engineers within the company, becoming great role models to the new apprentices.
Aftersales director for Linde Material Handling, Market Sullivan said: "Our apprenticeship programme is layered in order to help the students gain the most out of each year. The first two years provide apprentices with the basic principles and training of the trucks, whereas the third year ensures that they gain the qualifications needed. The final year is the most valuable of all as apprentices are given the chance to put into practice all that they have learned, including commercial awareness and the importance of listening to our customers to understand their needs and requirements.
"We know we are industry leaders and we want to address gaps in the market when it comes to recruitment. Thanks to our new and innovative ways of advertising our programmes, we have been able to receive a record number of applicants that others haven't. We are looking to expand our application programme into 2016 and address the lack of applicants with knowledge of science, technology, English and maths (STEM) subjects."
OTHER ARTICLES IN THIS SECTION