'Not just a supplier, this is a partnership'
06 April 2016
The Vaillant Group is a global market leader in compact wall-hung heating appliances.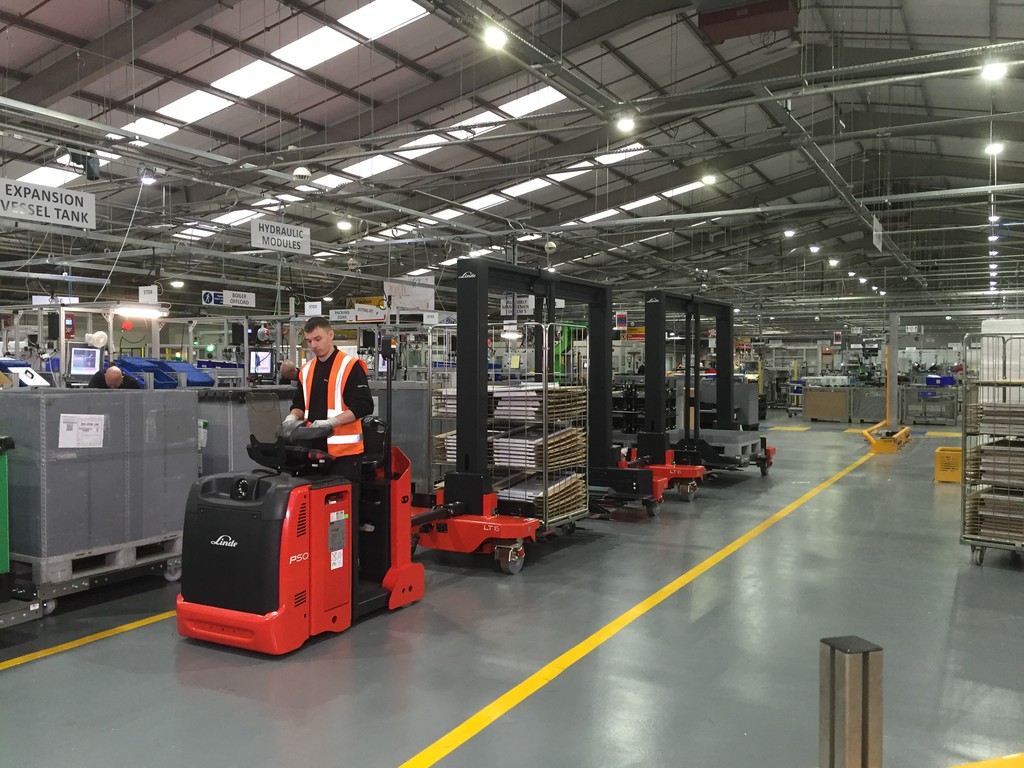 The UK factory in Belper, Derbyshire has been in operation for over 50 years, but it's by no means old fashioned. Clean, bright, modern and quiet, you can clearly see why it's won so many awards.
The site manufactures a staggering combined total of 400,000 Vaillant and Glow Worm branded boilers a year for the UK market. Every aspect of production takes place on the Belper site, right down to pressing the steel, each stage precise and efficient.
In the last year, the introduction of new boiler types has more than doubled, prompting Vaillant to rethink the way they run their factory. With efficiency and safety at the forefront of their minds, Vaillant turned to Linde for advice.
"We realised early on that this was not just a simple truck replacement, but a far bigger project," commented Martin Walker, sales director at Linde Jewsbury's. "Working as an integral part of the Vaillant team, we really got to understand their needs which were ultimately to improve efficiencies and safety within their factory.
"The process was by no means straightforward," continued Martin, "but by joining forces with colleagues across our business, including the warehouse and product design teams, a solution was developed that will grow with Vaillant's business long into the future."
Planned for completion in Spring 2016, the transformation at Vaillant is currently on going, phase one of installing; being two new production lines now complete and operational. No longer fed by four forklifts, these new lines are fed by the new Linde Logistics Train, resulting in fewer trips and better use of space - a huge leap forward in efficiency for Vaillant.
The Logistics Train is not an off the shelf product, it's a modular system built specifically designed for every application. With its flexibility regarding load dimensions and weights it can offer a solution for any application. The Vaillant train consists of three sections, two bridge trailers which can carry two loads each (the equivalent of 4 pallet loads) pulled by an electric tow tractor (P 50).
The loads at Vaillant range from lightweight packaging materials to heavy motors which are loaded onto wheeled dollies then simply wheeled off from either side. When specifying the trailers, factors such as load heights of materials coming in from suppliers were taken into account to ensure a seamless flow when loading, eliminating the need for these loads to be broken down to fit onto the trailers.
Operator Guy Foster at Vaillant has nothing but praise for the train: "What would normally mean 100 trips a day with the fork lifts is now only 20 trips with the train. You can get so much more on one load. The train is comfortable and really easy to drive."
The use of the logistics train now means that fork lift trucks do not operate within the new production lines at all. A dedicated marked 'road' for the logistics train surrounding the production lines means that pedestrian safety is assured.
"We did speak to other manufacturers, but nothing matched our true requirements," commented Adrian Ancliff, supply chain manager at Vaillant. "It was evident that we needed something more than just equipment, we needed a partner with a true understanding of our application. It was apparent right from our early conversations that Linde understood our needs and had the capability and scope to come up with the right solution. We see Linde as an integral part of our team and I look forward to seeing this partnership blossoming into the future."
The installation of the Logistics Train is just the beginning of this partnership, Vaillant have now taken delivery of their new Linde fleet of counterbalance and reach trucks to compliment the Logistics Train. Fitted with several features in including BlueSpot and Telematics, Linde are again delivering Vaillant's objectives of improving safety and efficiency in their factory.
Next steps include the reorganisation of the raw materials storage area which is currently block stacked. This has been re-designed with the aid of the Linde Stratos warehouse planning and simulation tool, which has led to a new gravity fed racking installation creating 800 new storage locations.
Please scan the QR code or go to www.linde-mh.co.uk/Vaillant to see a video of the partnership with Vaillant.
OTHER ARTICLES IN THIS SECTION