ARTICLE
Wireless column lifts
06 February 2018
A set of Stertil Koni eBright mobile wireless column lifts supports an extensive range of workshop activities for Stanley Travel within the company's premises at Annfield Plain in County Durham.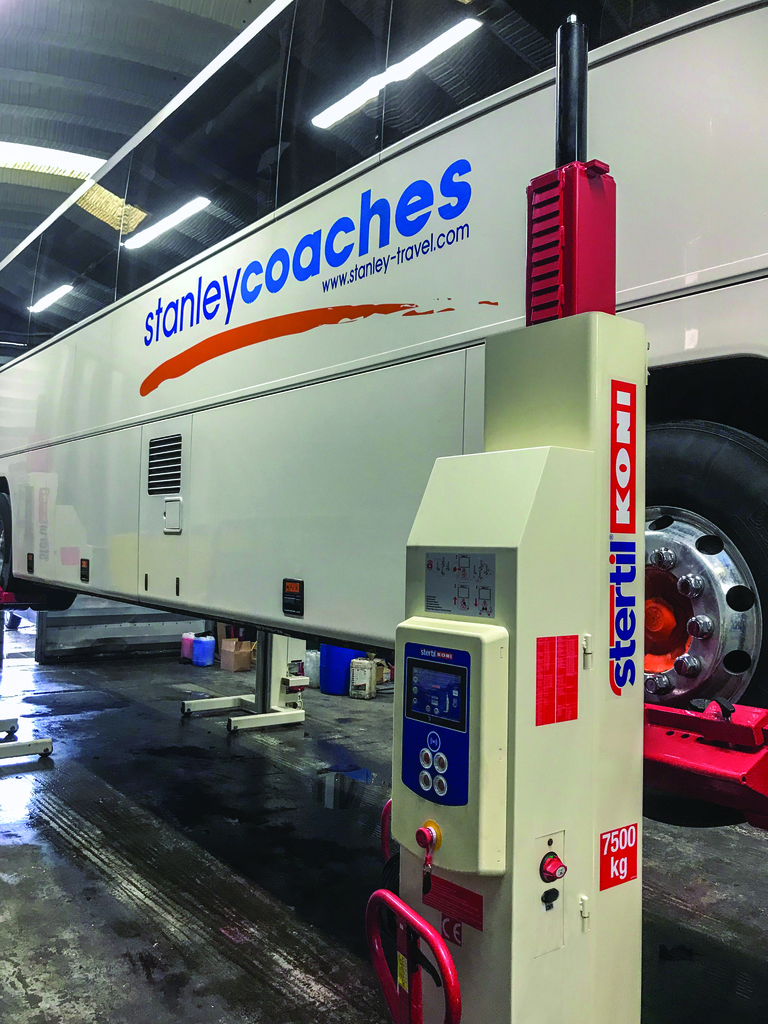 Established over 50 years ago, Stanley Travel is a family-run business providing coach, bus and taxi hire, as well as day trips and holiday services. In 2009, the company joined the UK coach industry's most elite operators by becoming one of only 38 in the country to be awarded the Coach Marque accredited by the Confederation of Passenger Transport in recognition of the quality and consistency of its services. As a satisfied user of cabled Stertil Koni lifts since 2003, Stanley Travel opted for the latest wireless mobile column lifts, type ST1075FWA-4, to simplify servicing, repairs, MOT preparations and bodywork duties on all classes of vehicles ranging from 16 seater minibuses to 70 seat double deckers.
Each of the four mobile columns provides a lifting capacity of 7.5 tonnes which means that the combined capacity of the set is an impressive 30 tonnes. Also, each column incorporates Stertil Koni's eBright smart control system which enables workshop staff to operate the columns individually, in pairs or in any other configuration from any column in the set.
Incorporating wireless mesh network connectivity and full-colour touch screen consoles, the eBright smart control system has been designed and developed to simplify operation by providing maximum visual information about every lifting operation - all at the fingertips of the workshop engineers. For added safety and performance, the eBright smart control system also shows how many columns in the set are being used plus the battery status of each column.
Long-life deep cycle batteries power the lifts for at least a week on average before recharging is necessary and the batteries can then be charged overnight via a 230v single phase supply. With no cables on the workshop floor, the risk of tripping is removed, providing valuable health and safety benefits and, with no wired power supply, the system can be used safely inside or outdoors.
The absence of power and communication cables means that set-up time is drastically reduced thereby making the system fully operational much more quickly. Significantly, the lift's synchronisation system ensures a smooth lifting and lowering cycle, even in the event of extremely uneven load distribution.
To cater for engineers of all heights, the ST1075FWA-4 provides a maximum lifting height of 1.85 metres which is reached in just 75 seconds thereby making it one of the fastest commercial vehicle lifts available. This is an important feature of the new lifts which support workshop activities throughout a five day working week and are used to safely raise and lower up to four vehicles a day.
"We have an inspection pit in each of our depots, at Stanley and Annfield Plain, so the new lifts have doubled our working capacity without incurring the costs of adding further pits and losing valuable floor space," Ian Scott, director of Stanley Travel, said. "We've been very pleased with a set of cabled lifts from Stertil Koni for almost 15 years and we're confident that we shall benefit from the same performance and reliability using these latest wireless lifts."
OTHER ARTICLES IN THIS SECTION