Dairy productivity boost
27 October 2017
An installation of six loading pods designed by Stertil Dock Products has streamlined operations, shortened work cycles and increased productivity for Wells Farm Dairy.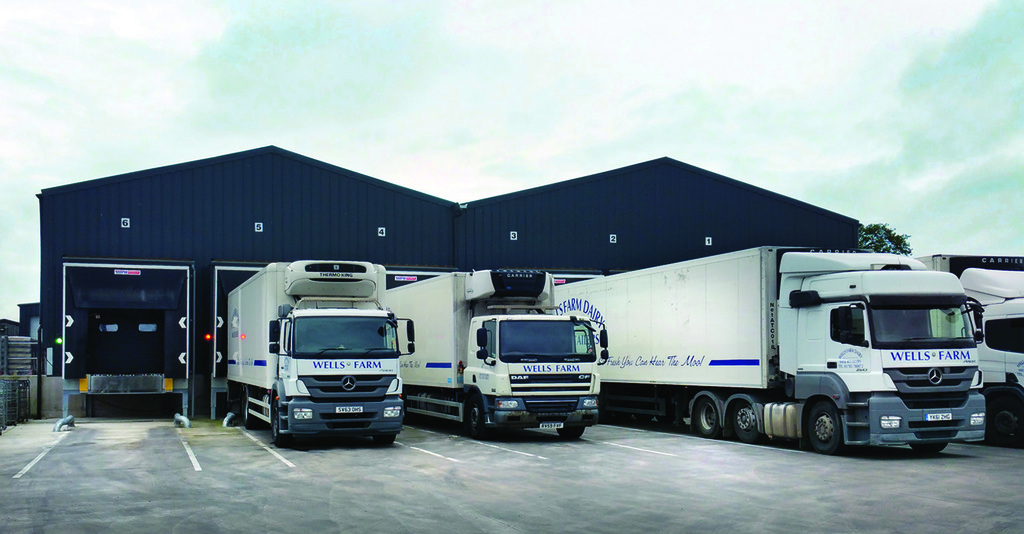 Established over 100 years ago, Wells Farm Dairy is located at the heart of the Staffordshire countryside and conveniently within the M6 corridor. From this idyllic setting, the dairy has easy access to major conurbations including Manchester, Liverpool, Stoke on Trent, Derby, Leicester and the West Midlands. Alongside its own branded products, Wells Farm sources an extensive variety of milk and dairy goods from selected local farms. These products, which include fresh milk, yoghurt, cream, fresh eggs and bread plus water and juices, are supplied to local authorities, wholesalers, restaurants, nursing homes, bakeries, food processors and doorstep services.
Wells Farm Dairy has always striven to ensure that its many customers could rely upon quality products delivered on time. Consequently, as demand continued to increase, the company recognised that it was necessary its upgrade its distribution facilities. Following consultation with specialists from Stertil Dock Products, a decision was made to invest in a modern loading bay installation comprising a series of six adjacent loading pods.
Each pod features dock houses, dock shelters, dock levellers and insulated sectional doors. The steel framed dock houses incorporate 40mm insulated cladding and are bolted to concrete bases to form robust and weather resistant structures. Within each dock house is a collapsible frame dock shelter, type WL 574, measuring 3500mm wide by 3500mm high. Comprising rugged head and side curtains, the W Series range of dock shelters can be tailored to fit and effectively seal almost every type and size of vehicle.
The S Series swing lip dock levellers, type SF 3020, are manufactured from high tensile steel and provide a lifting capacity of 6000kg. During the loading and unloading process, the leveller adjusts itself automatically to the changing floor height of the truck. Importantly, the platform can twist smoothly 125mm to both sides for maximum stability and safety especially when unloading vehicles that have been unevenly loaded. When the platform is in rest position, it is automatically supported by two safety supports so that cross traffic over the platform is possible without any safety risks. The SF 3020 dock leveller also incorporates an 80mm long chamfer to ensure the smooth transfer of loads plus a self-cleaning rear hinge.
Also accommodated within the Stertil dock houses are Thermadoor insulated sectional overhead doors. The door panels comprise a double skin of galvanised steel insulated with polyurethane foam infill which bonds to the steel for additional strength. Each door features an anti-lift security device plus non-absorbent rubber seals to combat the penetration of draughts, water and dust. The doors were specified with internal and external polyester finishes plus two vision panels.
Each loading pod at Wells Farm also includes a composite push button control panel featuring safety interlocks, traffic lights, dock lights, dock bumpers and wheel guides.
The distribution operation at Wells Farm commences with the arrival of up to 18 vehicles daily, six days a week. These vehicles include articulated refrigerated trailers plus 12ft and 18ft refrigerated lorries which are loaded and unloaded, within the Stertil loading pods, utilising a variety of trolleys and pallet handlers.
"Before purchasing the Stertil loading pods, we used a forklift and the operation could involve up to three men," says Paul Holt, managing director of Wells Farm Dairy. "Now, everything is much smoother and quicker. The docks have saved a huge amount of time and the three metre long dock levellers allow for much easier and safer transfer of pallets. It's a perfect solution for us and the price was also very competitive."
OTHER ARTICLES IN THIS SECTION