Wireless capabilities
20 September 2017
Hughes Safety Showers, the manufacturer of emergency safety showers, eye/face wash and decontamination equipment, will be showcasing new products at A+A 2017.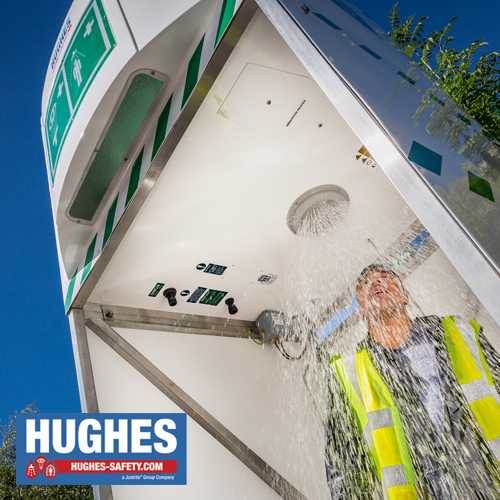 "We are looking forward to welcoming visitors to our booth," stated Simon Ingham, head of sales. "Our newest product features support our ongoing commitment to provide bespoke engineered solutions, enabling our customers to create a safety solution perfectly suited to their exacting requirements, for all environments and industries, whatever the challenge."
Visitors are invited to take the opportunity to network with other delegates and Hughes representatives at the Hughes Happy Hour, taking place on the stand every day at 4:30pm. Enjoy complimentary drinks, plus the chance to win an Amazon Echo Dot by entering the 'Big Idea' competition.
Showcased products include wireless monitoring. Suitable for remote locations, the new wireless monitoring and alarm capabilities are said to make it even easier to alert personnel that the safety equipment has been activated and assistance is required. These can be retrofitted to existing safety showers and eye wash ranges without the complications and expense of wired connections.
Suitable for hazardous and non- hazardous environments, the STD-TC-100KS/11K product will also be on the stand. Intended for indoor or outdoor use, the 300-litre tank and 3kW heater ensure the delivery of temperature controlled water for the ANSI recommended minimum period of 15 minutes at 76 litres per minute.
Hall 6/D05
OTHER ARTICLES IN THIS SECTION