Lords adopts first class hand hygiene
13 April 2017
Marylebone Cricket Club is the world's most active cricket club, and proud owner of Lord's Cricket Ground. The ground – located in London – has a total capacity of almost 30,000 people.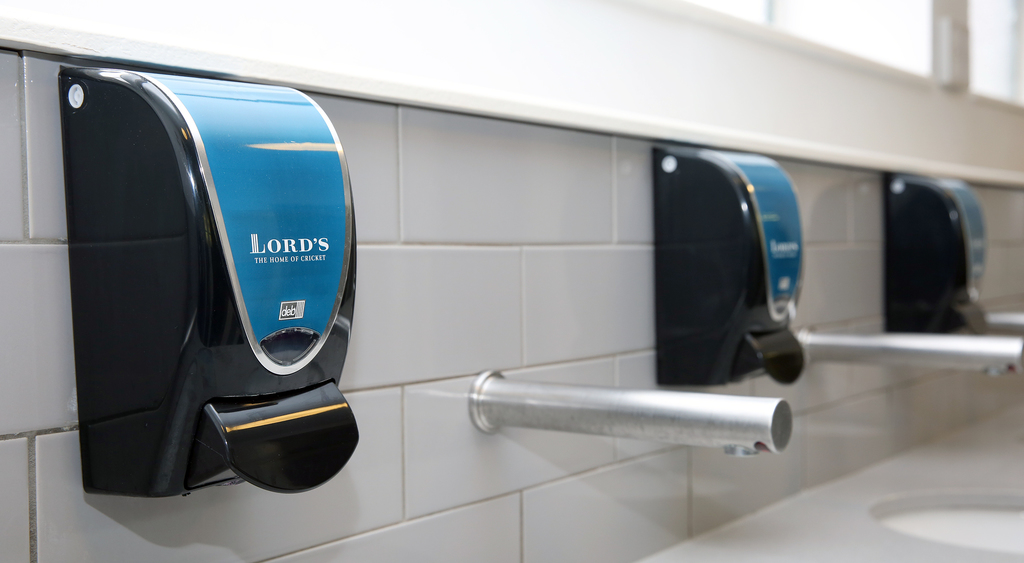 At the start of 2016, the club wanted to focus on improving the washroom experience for players, staff and visitors. To ensure that their hand hygiene needs were appropriately met, Marylebone Cricket Club turned to Deb, a global leader in skin care products, who recommended the replacement of old dispensers with its bespoke hand wash and sanitise dispensers.
195 Deb Refresh Azure FOAM hand wash cartridges and bespoke Lord's dispensers were installed in public toilets in the grounds and restaurants, staff toilets and in the shower rooms. A foam hand wash was recommended by Deb as it offers a more economical choice compared with lotions – as a standard 1-litre cartridge can yield over 1,400 hand washes. Foam soaps can also contribute to significant water and energy savings. This was of particular importance to Marylebone Cricket Club – as it has been named the first cricket ground in the country to run on 100% renewable energy. The Deb Refresh Azure FOAM hand wash is EU Ecolabel certified and also contains skin conditioners to improve skin hydration and prevent drying.
Deb also installed InstantFOAM Complete hand sanitiser dispensers in public and staff areas at Lord's – a virucidal foam hand sanitiser – which can kill 99.999% of many common germs.
To enhance the overall washroom experience, the club chose to install aesthetically pleasing, bespoke washroom dispensers to allow the ground to promote a cohesive and inclusive brand identity. The Deb dispensers installed at Lord's also use Biocote's antimicrobial technology, which has been proven to achieve up to a 99.99% reduction in bacteria, mould and fungi over a 24 hour period. Deb also provided several hands-free dispensers to the cricket ground.
OTHER ARTICLES IN THIS SECTION