ARTICLE
Original icon transformed
04 April 2017
Dr. Martens has championed safety and worker welfare since 1960, when the first pair of 1460 boots rolled off the production line at its original Cobbs Lane factory, Northamptonshire, England.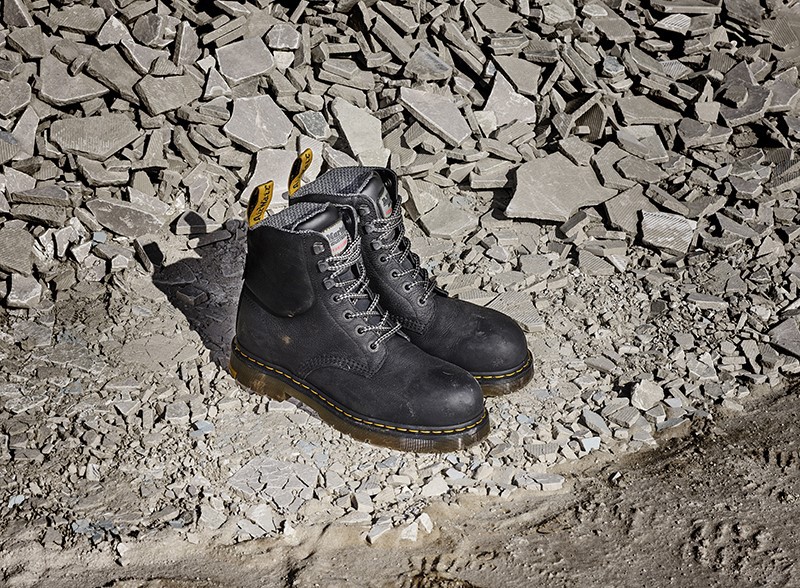 Drawing on over half a century of shoe-making expertise, and in celebration of their 57th birthday, Dr. Martens unveils a modern update to the original Icon 7B10 work boot – launching the new HYTEN S1P. It is designed for men and women that want to look good and work hard.
The rugged S1P is a cutting-edge style, based on the original Dr. Martens iconic boot. Providing all day comfort and protection; the boots are constructed with soft milled leather uppers and engineered with an internal steel toe cap (conforming to and exceeding European Standard), anti-static properties, and an anti-penetration midsole. Prepared with excellent grip, slip and puncture resistance: Dr. Martens ensures total underfoot protection. It is available in black (Overlord Black) - UK 3 – 13 whole sizes.
The HYTEN S1P is a further evolved style of the existing Black 7B10 safety boot. Both styles encapsulate the origin of Dr. Martens when it launched in 1960. With its trademark yellow stitch and grooved sole and heel-loop, the lightweight, durable and comfortable styles are suitable for workers.
The new HYTEN upholds Dr. Martens' traditional values and heritage; maintaining worker safety and comfort, whilst comprising modern technology, flexibility and style.
OTHER ARTICLES IN THIS SECTION