ARTICLE
Listen carefully...
09 March 2017
A two-way radio is a critical communications tool in a variety of scenarios: construction, engineering, schools, hospitals and large public gatherings. But while everyone may be used to using their mobile phones – where there are no rules to worry about – it's important to ensure staff are familiar with the etiquette of two-way radio communications.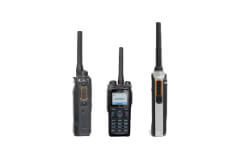 Basic training can make the difference between efficient and timely communications and response – and a complete communications breakdown between staff.
So it's a good idea to ensure everyone receives training on how to use and speak into a two-way radio. And that they are given some core radio communication rules to follow.
New joiners should always be coached in the protocols that specifically apply to your operational set up. Their safety and security in the workplace, and that of colleagues, will depend upon this.
Here are some basic radio communication guidelines that could prove useful: perform radio checks; decide what you are going to say before you speak and who your message is meant for; avoid long complicated sentences – be precise and to the point. The radio is for sending and receiving important messages – and not for gossip/small talk which blocks channels for other radio users.
OTHER ARTICLES IN THIS SECTION