Home
>
YULEYS Reusable Shoe Covers
YULEYS Reusable Shoe Covers
22 September 2016
YULEYS reusable overshoes offer the smartest and most affordable choice on the market. Easy to use, hands-free, slip-on and slip-off safety footwear protectors YULEYS are uniquely designed to conveniently and quickly fit over safety footwear. They allow wearers to easily access clean environments without the need to remove their dirty footwear, protecting indoor flooring from outside dirt.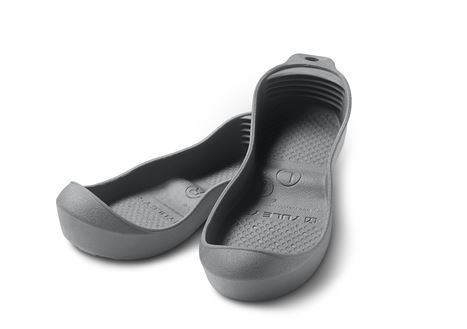 Users of YULEYS are free to walk naturally and comfortably feeling confident their customers are more likely to refer their professional customer service to others. An environmentally friendly and cost conscious alternative to those currently using disposable shoe covers for each site visit, YULEYS can easily be cleaned with warm water for years of use. YULEYS solves the dilemma of keeping workers safe and customers happy. Wearing Yuleys gives your company a more professional look and reputation and saves you money and hassles by preventing damage.
After enjoying significant success across North America, YULEYS reusable overshoes are now exclusively available in the UK and Ireland through wholesale distributor Fortress Distribution. YULEYS are now available in two versions either a SEBS rubber or TPR model depending on your application and requirements.
RELATED ARTICLES
No related articles listed
OTHER ARTICLES IN THIS SECTION