ARTICLE
Step with safety
11 July 2014
Fortress Distribution has introduced YULEYS re-usable shoe cover to its range to solve the dilemma of keeping workers safe and customers happy.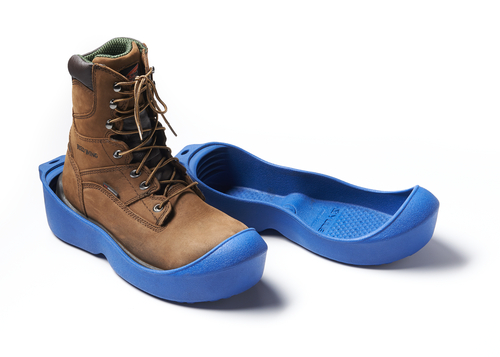 Conveniently and quickly fitting over safety footwear, YULEYS enables construction workers, tradesmen and delivery drivers to enter clean environments without the need to remove their dirty footwear. This protects indoor flooring while enabling users to walk naturally and comfortably, reducing the risk of slips and falls.
YULEYS is designed to be an environmentally-friendly and cost conscious alternative to traditional disposable shoe covers that can easily be cleaned with warm water for years of use. A seamless one-piece shoe cover made of flexible industrial grade SEBS rubber, it comes in a variety of sizes to fit the majority of work shoes and boots.
Alan Matthews, director at Fortress Distribution, said: "We are really excited to be partnering with YULEYS Protective Footwear to bring this unique product to the UK and Ireland. There is a real gap in the market for the solution that YULEYS provide and we can see a tremendous opportunity for this product."
OTHER ARTICLES IN THIS SECTION