Trio of launches
03 April 2018
Fortress Distribution will be launching three products at The Health & Safety Event: Guard-Dogs Aggressive Eyewear, BodyPartner posture alignment clothing and ColdRush personal cooling products.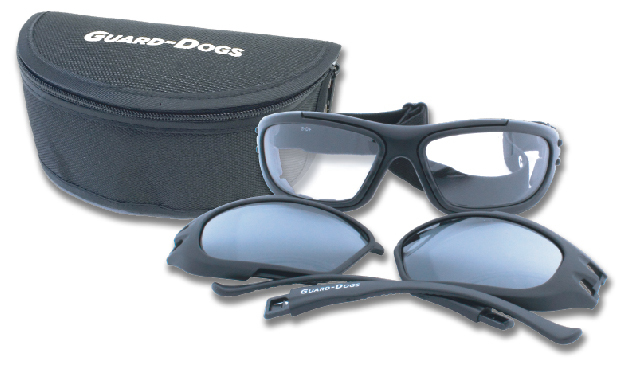 Guard-Dogs, Aggressive Eyewear develops new and innovative eyewear styles, that focus on quality, strength, and durability, with a major emphasis on protection from debris in aggressive work environments and high-speed activities. The range offers numerous goggle and eyewear styles and combinations that have been specifically designed to keep dust, industrial particulates, wind, insects, grit, sun and anything else that flies at you, out of your eyes.
With Guard-Dogs, Aggressive Eyewear you can be sure of eyewear that fits well, seals the eye area properly and is comfortable all day.
BodyPartner spine align t-shirt was created and developed by one of the UK's leading osteopaths to help provide relief and better manoeuvrability for those suffering with issues associated to poor posture. Work related musculoskeletal disorders (WRMSDs) account for 34% of all working days lost due to work related ill health according HSE Labour Force Survey (2016). An estimated 8.8 million working days were lost due to WRMSDs, an average of 16 days lost for each case. Construction, Transportation and Storage, desk bound occupations and jobs that involves long periods at the wheel of a vehicle are all industries and roles with significantly higher rates of WRMSDs.
BodyPartner is a Spine Align t-shirt which is engineered for posture improvement. The patented technology of the XPT-11R gives advanced detailing in the constructed fibres, the push-pull technology and the overlaying construction makes the garment unique in the way that it enables the wearer to regain the perfect posture. Wearing a BodyPartner T-shirt will relieve issues related to poor posture such as neck, shoulder and back pain reducing the amount of days lost to WRMSDs.
ColdRush personal cooling products by HexArmor use Garmatex cooling technology, a high-performance fabric which is moisture activated so that as water evaporates, fast drying microfibers and natural minerals accelerate the cooling process.
Jenny Matthews, Director at Fortress Distribution, said "Fortress Distribution specialises in introducing innovative PPE and safety workwear brands to the UK. We have continued to widen our portfolio and now offer 12 products in the Black Mamba Gloves and Accessories range as well as 2 versions of YULEYS targeted at different applications, Guard-Dogs Aggressive Eyewear, Body Partner Spine Align clothing and ColdRush personal cooling products. We're really excited to bring these product lines to the UK and to showcase them at The Health and Safety Event."
Stand No. HS70
OTHER ARTICLES IN THIS SECTION