ARTICLE
Personalised hearing protection
22 September 2015
Shawcity has been a leader in occupational health and safety noise dosimetry since its original NoisePro monitors back in the early 90s, so while the basic concept is familiar, technology is constantly evolving.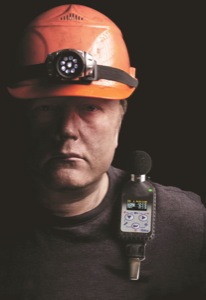 Currently there are three methods for calculating hearing protection for employees. Simplified Noise Reduction (SNR) which works over the entire perceptible frequency range i.e. reducing all noise by 10dB using simple Type 2 sound level meters or basic noise dosimetry. 


High, Medium and Low Frequency Attenuation (HML) is the next level and gives you a general attenuation at High, Medium and Low frequency bands using newer dosimeters with a standard (C-A weighting) calculation.
Octave Band Analysis is the highest level as it only filters out problem frequencies while retaining as much of the frequencies in the speaking zone (around 1-2kHz) as possible. This data has long been only available in stand-alone sound level meters, which allow this level of protection on short term area surveys but not on true experience over long periods of time. 


But in a ground-breaking development, we are pleased to announce the launch of the new SV104IS from Svantek.
This revolutionary Type 2 Personal Noise Dosimeter is now Intrinsically Safe and also includes capabilities for full octave band analysis, enabling you to tailor hearing protection to your employees in their real day-to-day working environments. 


The SV104IS offers new qualities in an instrument of this size.
It gives the user audio event recording functionality and allows interrogation of real time data and reporting via an android app. This means no more waiting until the end of a shift before downloading data to a laptop to analyse it. 


Cable-free, the SV 104IS is typically attached close to the ear on the user's shoulder and has a robust ½" MEMS microphone with a dynamic range of 90 dB which measures noise from 60-140 dBA.
Advantages also include TEDS memory and autocalibration using most commonly available acoustic calibrators. 

The docking station also supports data transfer to a PC through the infrared interface as well as handling battery charging. The rechargeable batteries used in the SV104IS will power the instrument for 50 hours.


The benefits of this new approach to personalised dosimeters underpin the simple fact that as an individual, the more effective and personalised your hearing protection is, the more likely you are to wear it which ultimately means better protection for the workforce.
www.healthandsafetyevents.co.uk

Stand F32

OTHER ARTICLES IN THIS SECTION