ARTICLE
BSIF in action: Hearing Protection Product Group
22 June 2015
Noise induced hearing damage, whatever the cause, can have a relentlessly distressing impact on the quality of life, not only for the person who suffers from it but also for their loved ones, family and friends.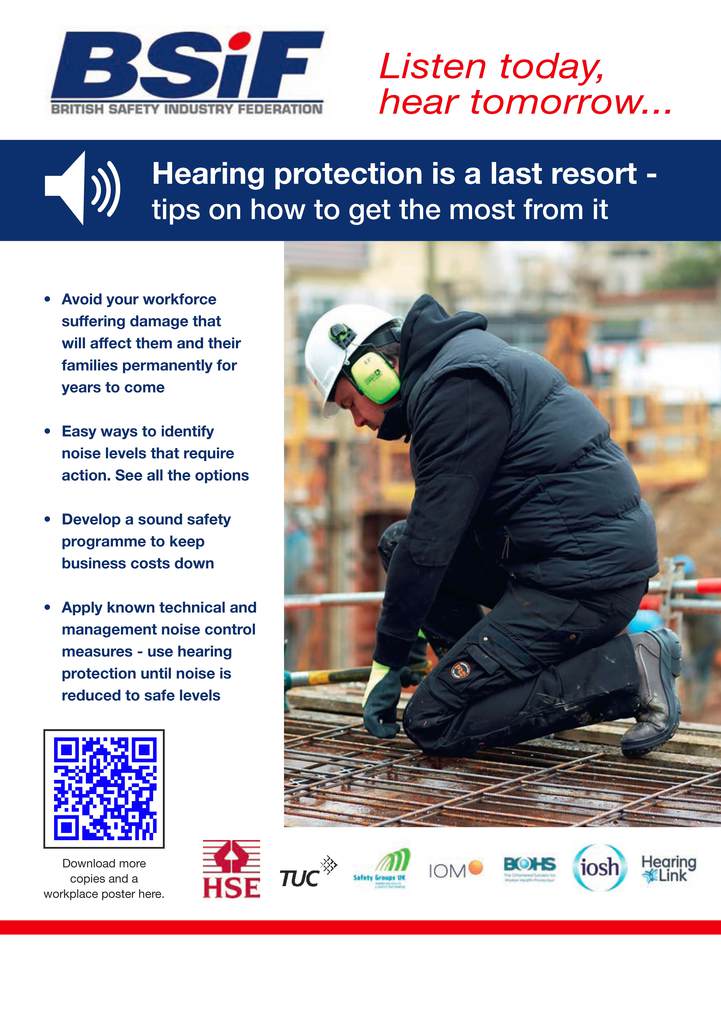 It is grouped by the HSE with a number of conditions classified as 'long latency', which means that its effects can build up over a long period of time, sometimes decades, and sufferers may not even notice the symptoms gradually worsening until the effects become severe.
In order to address the issue of hearing loss in the workplace, the BSIF Hearing Protection Product Group formed a working group to develop a campaign which provides a brochure and workplace poster, to help companies looking for guidance on how to protect their workforce and to suggest easy steps on how to check it out if they think they may have a noise hazard at work. The campaign is called 'Listen today, hear tomorrow' to stress the importance of listening to the message now to give you the best opportunity of avoiding work related hearing loss in the future. The campaign message is simple: it's avoidable.
There are many circumstances that can cause hearing loss, which may be temporary, but once your hearing is actually damaged it will not recover. The effects of hearing damage are permanent and irreversible and can consign the sufferer to years of missing out on what is going on around them. Almost 10 million people in the UK today are deaf or have some degree of hearing loss. That is almost one in six people, and this figure is expected to rise to around 14.5 million by 2031.
What should I do if I think the noise level may be harmful?
Where possible, in the first instance, noise like all other hazards should be removed to eliminate harm. Using, and asking your colleagues or employees to use, ear plugs or ear defenders is not the first step. In fact, it's the last. Personal protective equipment (PPE) in the form of hearing protection is extremely useful to reduce exposure while more permanent measures are taken, or to deal with residual noise levels once other options have been applied, but it should not be used as the first and only method of addressing harmful levels of noise at work.
To find out more about the BSIF 'Listen Today, Hear Tomorrow' campaign, please contact the BSIF via email on enquiries@bsif.co.uk.
OTHER ARTICLES IN THIS SECTION