ARTICLE
Next gen extraction system
15 June 2015
ULT AG, vendor of extraction and filtration technology for airborne pollutants, has unveiled its next generation systems ULT 1500 and ULT 2500.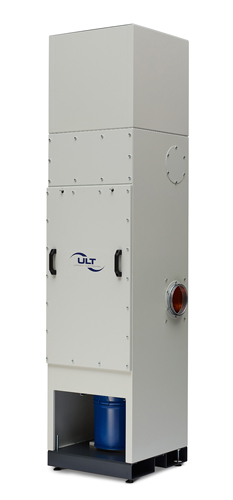 The units have been designed for the removal and filtration of hazardous substances in dust, laser fume and welding smoke. They are based on an ideally configured device and filter concept developed to provide users critical space and cost benefits within production lines.
Both systems feature conic filter cartridges, which enable increased filter performance and better cleanability due to their geometry. Easy dust discharge means dust deposits are collected directly in a 70 l removal container for low contamination disposal.
ULT 1500 and ULT 2500 can be flexibly adapted to various process conditions for extraction and filtration of dust, welding fume or laser smoke. It is possible to select the extraction position, i.e. raw gas intake can be executed on the systems' right or left sides, which means variable installation conditions.
Both systems feature an optional swing check valve to protect pipelines against pollution by possible dirt pushback, and consequently, filter cartridges against premature wear.
Because of their small footprints, the units can be incorporated in limited spaces and have front access.Rotary nozzle dedusting additionally reduces compressed air consumption and hence energy expenses. Filtered air can be fed back to the working area, avoiding heat loss.
The newly developed systems have been designed for extraction and filtration of hazardous substances originating from welding and laser processes, and for dedusting technology.
OTHER ARTICLES IN THIS SECTION