15 year warranty
27 October 2014
Cirrus Research has announced that it is the first and only UK manufacturer to offer a 15 year warranty on all its new noise measurement products.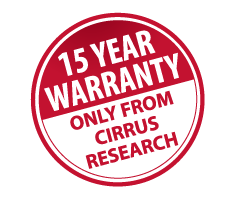 This cover starts with a two year 'return to base' warranty against all faults but it is then extendable, one year at a time up to a maximum of 15 years, as long as the products are calibrated annually by Cirrus Research.
This guarantee covers all noise measurement and acoustic equipment and is available at no additional upfront cost.
"It doesn't matter if the damage has been caused accidentally or by some kind of failure, we will mend or replace it," marketing manager, Thomas Shelton said. "We know the reliability and the strength of Cirrus products and that's why we can offer such a long term warranty to cover any eventuality as part of our follow-on Customer Service."
OTHER ARTICLES IN THIS SECTION