Professional, compliant sound level meters (from £300)
23 June 2014
Avoid putting your employees' hearing at risk and costly compensation claims by investing in a Pulsar Noise Measurement kit while complying with the latest Noise at Work Regulations.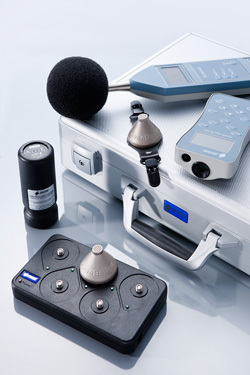 Noise-induced hearing loss is one of the most common occupational disease which can happen in a wide range of industries such as manufacturing, engineering but also in the entertainment and construction industries. Recent court cases include an employee being exposed to excessive noise from machinery without hearing protection over a long period of time, resulting in permanently damaged hearing. Consequently, employers and safety practitioners have a duty to be well informed and manage this area as required under the Noise at Work Regulations (2005). This is to ensure that robust safety measures are in place to identify the noise source and reduce noise exposure to avoid putting workers' hearing at risk and incur costly compensation claims.
Pulsar Instruments plc has over 45 years' experience in the field of acoustics and are the people to call when it comes to source reliable products to carry out workplace noise measurements. All Pulsar sound level meters are designed to be simple to use and effective whilst complying with UK, European and International standards. As such, any user can be assured of a sound investment when buying a Pulsar sound level meter.
The company are expert manufacturers of sound level meters to suit all budgets and offer different lines of products suitable for a wide range of applications. Pulsar Sound Level Meters and noise dosimeters allow users to make a representative measurement for each job function and establish with confidence the true exposure of noise.
Instruments are usually purchased as part of a complete professional noise measurement kit, containing everything required to carry out a compliant noise survey.
Any employer looking for affordable and practical solutions for workplace noise issues can invest in a Pulsar Instruments' compliant sound level meter for as little as £300.00.
Why not take a look at the full range online and discover why Pulsar instruments are trusted by thousands of health and safety professionals around the world. Visit
www.pulsarinstruments.com
Alternatively, please contact our team on 01723 518011 or email sales@pulsarinstruments.com to discuss your specific noise measurement requirements.
OTHER ARTICLES IN THIS SECTION