Safe storage solutions
04 December 2018
Safety Unlimited's Relocatable Safety Store (RSS) gives 1h fire rating to BS476 with explosion defences covering even the lights and switches. It is designed for highly flammable liquids, petroleum mixtures, pesticides and other hazardous materials.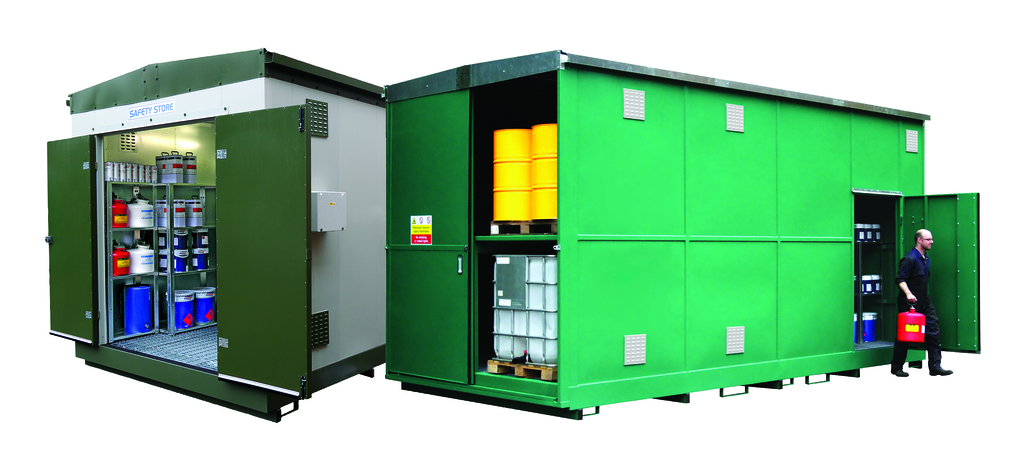 Eight sizes are offered, from minimum 2.635m high by 1.372 deep. Exterior wall panels and roof are manufactured of plastic-coated sheet steel for performance, colour stability and resistance to degradation. In turn, the walls, doors and roof are insulated with 75mm Rockwall Firebatt. The base of the unit is fully welded and acts as a leakproof sump covering the entire floor area.
As standard, the store is fitted with high and low flame arrested ventilation and galvanised grid flooring as well as a secure Yale lock with internal override. Optional extras include heating, extraction, sprinkler, fire detection and temperature control. The unit can be moved wherever and whenever needed.
Also available from Safety Unlimited is a Multi Purpose Storage Unit (MPSU), which is described as 'virtually a small warehouse'. It has a walk-in format designed to house 205L drums and 1000L IBCs and is manufactured from 2mm mild steel over 100 x 50 x 3mm RHS. There are two models available at 3.3m high by 3.0 deep with both offering compartmentalised sumps for segregation of potential spillages and separate shelving.
The basic differences are two level storage for 16 x 205L drums or 4 x IBCs in one end on support beam bearers – alternatively storage for 32 x 205L drums or 8 x IBCs on each end on bearers, plus forklift access. This version can have galvanised grid shelving as an option. Both models include padlockable sliding doors and there are four standard colours available.
Other Bulk Storage variations for Hazardous Liquids are External Petroleum , Economy Galvanised and General Purpose Stores as well as the Dual Purpose Storage Unit. As with all Safety Unlimited products, a bespoke service can be applied to meet exact requirements and the company is certified to ISO 9001for Quality Management.
OTHER ARTICLES IN THIS SECTION