ARTICLE
Manoeuvring lights
04 December 2018
HW Martin Safety Fencing is fitting Labcraft Banksman manoeuvring lights to its vehicle fleet, for improved visibility and safety during the installation, management and removal of safety barriers on motorways and trunk roads throughout the UK.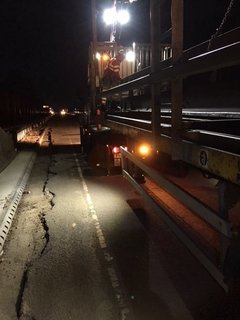 John Hawtin, parts manager for HW Martin (Plant), said: "We operate on a nationwide basis and our highways maintenance support work is invariably carried out during the night, which means we need as much light in the work area as possible. After successful trials, we fitted 3 Banksman lights to each side of our flatbed trailers, plus a low-loader, and the improvement is significant. This has led us to extend our trial into other areas of our group, including the walking floor trailer used by H W Martin Waste Management."
According to John, the increased visibility goes a long way to reducing low-speed collisions and increasing all-round safety for equipment and personnel.
He added: "The lights come on automatically when reversing and for additional illumination we have installed a manual override, so they can be used whenever needed."
Labcraft's Banksman R23 is said to be the world's first Regulation 23-compliant manoeuvring lamp and can be installed to deliver additional bright light when in reverse only, or when both reversing and in forward motion up to 10km/hr.
OTHER ARTICLES IN THIS SECTION