ARTICLE
Alarm system protects Aberdeen Harbour expansion
29 May 2019
Bull Products, a manufacturer of fire protection equipment, is protecting workers during the £350 million expansion of Aberdeen Harbour.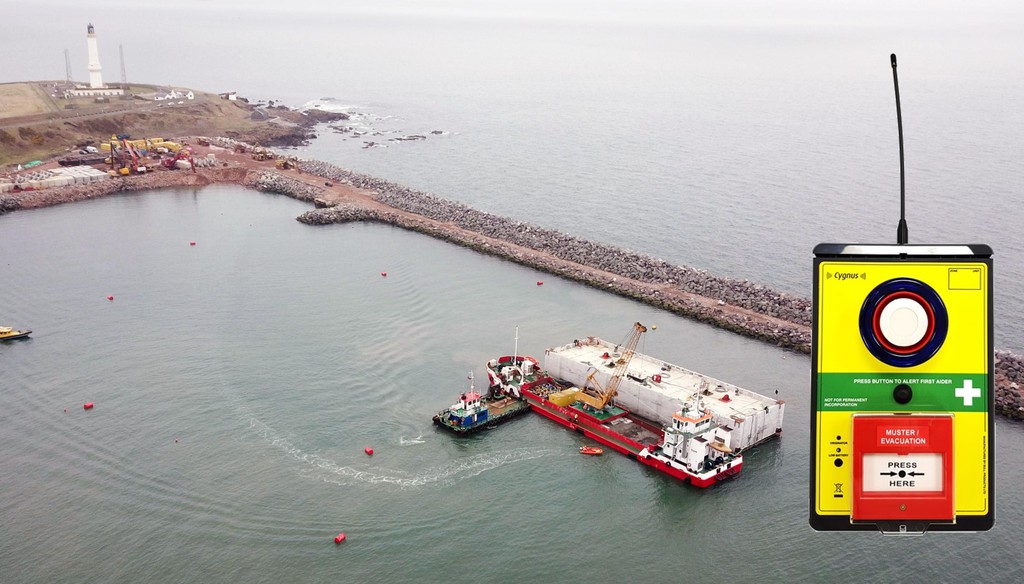 Aberdeen Harbour, one of the UK's busiest ports, is being transformed to develop new facilities and associated infrastructure at Nigg Bay, to the south of the existing harbour. During this time, temporary construction, breakwaters, quays and improved access roads will be built.
Working alongside contractor Dragados Group, Bull has supplied 14 bespoke Cygnus alarm units, as well as a control panel and an auto dialler. The system offers an emergency and first aid option to ensure the site and workers are protected from hazards such as malfunctioning machinery or dangerous areas of construction.
Comprising wireless emergency fire, first aid, and intruder alarms, the Cygnus radio system, manufactured by Bull Products, has already been used on some of the largest construction projects across the UK including Crossrail, Waterloo Station, and Battersea Power Station.
It has been designed for specific use on construction sites where changing site conditions and environments demand a far higher performance from the radio than those found in standard wireless fire systems.
Bradley Markham, director at Bull Products, says: "In environments such as the Aberdeen Harbour extension project, there are a variety of hazards that put workers' lives at risk other than fire. Our alarm system has been adapted to incorporate an emergency and first aid alert, which in the event of dangerous occurances, workers can be alerted quickly using the Cygnus Emergency Alarm System, ensuring site safety."
For more information, please visit: http://www.bullproducts.co.uk www.bullproducts.co.uk
OTHER ARTICLES IN THIS SECTION