ARTICLE
NEBOSH launches revised Diplomas
07 February 2017
NEBOSH has announced that revised syllabuses for its National and International Diplomas in Occupational Health and Safety are now being delivered by its accredited course providers.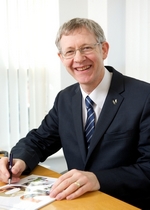 As a result of the revisions the content of the Diplomas, which are currently held by over 17,000 health and safety professionals around the world, is now aligned wherever possible to ensure equivalence between the two qualifications.
Recognising that the Diplomas are specifically requested by employers, the revisions also expand opportunities to apply knowledge to real workplace situations. They place greater emphasis on the leadership and softer skills required to influence change in an organisation. Importantly, the revised syllabuses also re-emphasise a proportionate and sensible approach to risk management.
In recognition of the National and International Diplomas' syllabuses clear layout and design and use of appropriate language, they have been awarded the Plain English Campaign's Book Mark – a seal of approval demonstrating that their clarity has been independently assessed by an expert.
Barry Wilkes, NEBOSH Director of Strategy, explains why the changes have been made: "To ensure that we continue to offer the gold standard in health and safety qualifications, we regularly review and revise our syllabuses to maintain their relevance. In this instance, we undertook our largest ever consultation exercise to ensure that our flagship degree level qualifications continue to provide the knowledge and understanding required by health and safety practitioners in the modern workplace."
NEBOSH consulted over 1,400 employers, safety practitioners, professional bodies, the Health and Safety Executive, trade unions and NEBOSH accredited course providers. The invaluable feedback they provided helped shape the content of both the National and International Diplomas' syllabuses.
For more information about the National and International Diplomas, visit NEBOSH's website: www.nebosh.org.uk
OTHER ARTICLES IN THIS SECTION