ARTICLE
Process selection guide
13 September 2016
ESAB Welding & Cutting Products' new Welding Helmet and Air Unit Selection Guide poster is now available free of charge.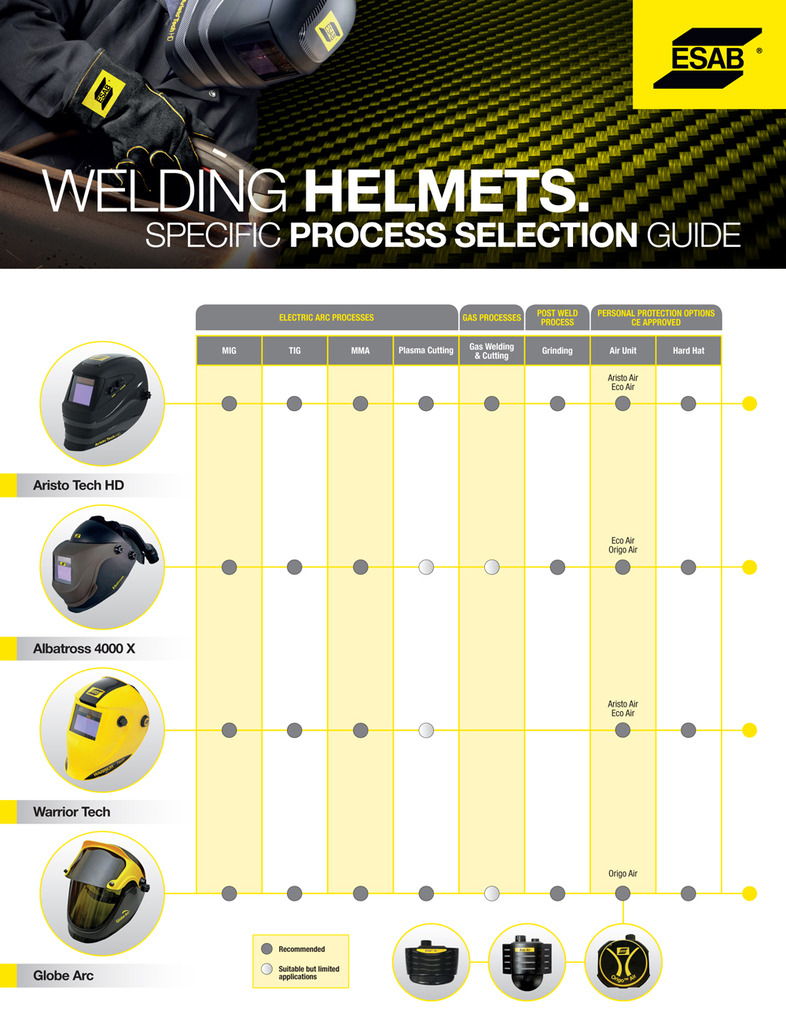 The selection guide is designed to help welders identify the proper ESAB welding helmet and associated air unit for the specific welding process or project at hand. The poster format makes the guide a convenient and easy-to-use resource.
ESAB offers a broad portfolio of welding helmets for all levels of users from beginner and recreational welders to professional welders and those requiring a high specification, multi-process head shield. The new Welding Helmet and Air Unit Selection Guide takes the guesswork out of helmet selection. Users can easily navigate the product range and select the headshield and available options in line with their application, personal preference, and health and safety requirements.
All ESAB Personnel Protection Equipment (PPE) incorporates the latest in safety-related technology. The newest addition to ESAB's PPE line is the Aristo® Tech HD auto darkening helmet, which provides best-in-class optical performance with a large 100 x 60 mm viewing area and new X-TIG mode for exceptional performance during low amp welding. The helmet is also offered with a Powered Air Purifying Respirator (PAPR) unit. For more detailed information on this and other ESAB PPE products, visit www.esab.com.
To obtain your free Welding Helmet and Air Unit Selection Guide poster, contact ESAB at info@esab.co.uk. This offer is valid for UK residents only and while supplies last.
In addition to this selection guide, ESAB also offers a range of training/educational posters specific to welding processes (GMAW, GTAW, MMA, plasma, oxy-fuel cutting and oxy-fuel welding). Check with your local ESAB representative for details.
ESAB Welding & Cutting Products is a recognised leader in the welding and cutting industry. From time-honored processes in welding and cutting to revolutionary technologies in mechanised cutting and automation, ESAB's welding filler metals, equipment, and accessories bring solutions to customers around the globe. For more information, visit www.esab.com.
OTHER ARTICLES IN THIS SECTION