ARTICLE
Flame retardant base and mid-layers
22 September 2016
Fristads Kansas has developed a full range of flame retardant base- and mid-layer garments that complements the company's flame-retardant collections.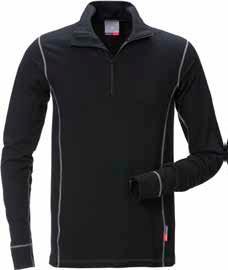 Flame retardancy prevents flames from spreading. However, even if the flames are thwarted, heat can still spread through flame retardant garments causing the skin to burn. But if you wear flame retardant garments together with flame retardant underwear, you will double your protection against flames and heat.
The same applies to electric arc-certified garments; wearing flame retardant underwear or several layers will increase your protection, i.e. increase the EBT/ ATPV value and the amount of energy that the garment system can withstand.
Fristads Kansas' new flame retardant base- and mid-layer collection has been developed according to this logic. Made of high-quality MOF and MRF fabric, the garments offer durable flame retardancy and great body-temperature management.
The MOF base-layer fabric is a blend of soft modacrylic fibres, top-class cotton and elastane in a flexible, single jersey quality. The modacrylic fibre has a permanent inherent flame retardant protection, which in combination with cotton provides a durable and strong product with good thermal insulation properties.
The MFR mid-layer fabric is a flexible and thermally insulating fleece with smooth outside and soft, brushed inside. In addition, the fa- bric has a modacrylic composition with inherent flame retardant properties, mixed with top-class cotton and elastane, which provides permanent flame protection and great thermal insulation properties.
The collection includes a thermal jacket, thermal long johns, long-sleeved T-shirt, long-sleeved T-shirt with half zip, long johns, bra, boxers and briefs.
OTHER ARTICLES IN THIS SECTION