ARTICLE
Environmental aerosol monitor
09 March 2016
Particle measurement specialist TSI Instruments has expanded its line of DustTrak Aerosol Monitors with the introduction of the Environmental DustTrak Aerosol Monitor.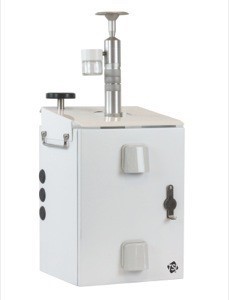 The Environmental DustTrak Aerosol Monitor is a built for purpose, reliable solution to easily and accurately facilitate long-term outdoor environmental monitoring. Conveniently packaged in three configurations, this monitoring solution makes it easy to setup and quickly begin monitoring levels of PM10, PM2.5 or both simultaneously.
The entire system is housed in a compact, weather-proof enclosure for protection of the newly enhanced Environmental DustTrak Photometer along with newly designed robust key components. The long-life pump, built-in auto zero module, and optional heated inlet and internal heater accessories enable longer runtime and reliable measurement accuracy with the ability to accommodate for varying temperatures and humidity. Additional space inside the enclosure also permits the option to add other third party, plug-and play sensors to suit specific monitoring needs. Combine it with the Cloud Data Management System to offer an all-in-one multi-parameter ambient monitoring system that provides for alerts via text and email when established ambient concentration limits are exceeded.
"Our goal was to deliver the most flexible environmental sampling platform that exceeds market needs and expectations---and we've done it," Bob Anderson, TSI global product manager, said.
"We've enhanced the proven DustTrak Monitor technology that thousands of people use every day and built the most efficient, flexible, and affordable solution to provide real-time, easy access to dust measurement data," he added.
TSI serves a global market by investigating, identifying and solving measurement problems. As an industry leader in the design and production of precision instruments, TSI partners with research institutions and customers around the world to set the standard for measurements relating to aerosol science, health and safety, indoor air quality, air flow, fluid dynamics and biohazard detection. With headquarters based in the U.S. and field offices throughout Europe and Asia, TSI has established a worldwide presence in the markets it serves.
Stand J34
OTHER ARTICLES IN THIS SECTION