ARTICLE
Rugby League teams up with Trojan
08 December 2015
Two of England's Rugby League stars put Trojan workwear through its paces at the launch of a partnership between England Rugby League and Trojan workwear, with Trojan now the Official Workwear partners to the England team.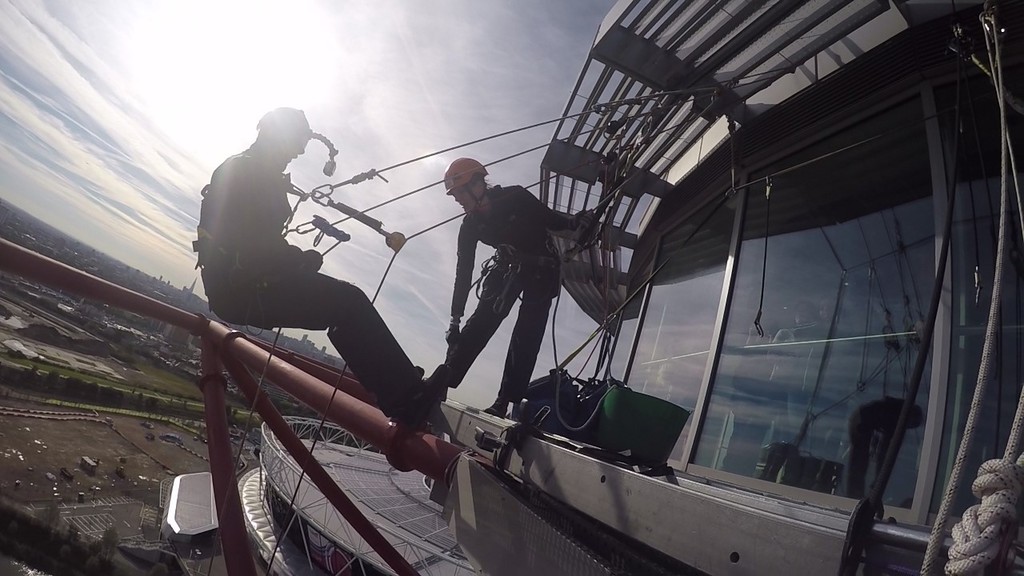 Sam Tomkins (Wigan Warriors and England) kept his feet firmly on the ground while his England team mate and Warrington Wolves player, Chris Hill, put his Trojan gear to the test and then some, as he abseiled down the outside of the ArcelorMittal Orbit, the UK's tallest sculpture, that rises above the Queen Elizabeth Olympic Park in East London. The Olympic Stadium hosted international Rugby League for the first time on 7 November, when England faced New Zealand in the second game of a three-match series.
With a camera crew recording every inch of his descent, Chris Hill had to answer a series of questions posed by Sam Tomkins before he could reach terra firma. Dressed in a pair of Trojan Tradesmen trousers, a breathable polo shirt, a Trojan Soft-Shell jacket and a pair of Trojan Orpheus Safety Trainers fully qualified plumber, Chris made easy work of the tricky launch and free-fall abseil but was delighted to reach solid ground.
"I recently qualified as a plumber and have set up my own plumbing business, Premier Plumbing with an old mate of mine. Whether I'm working as a plumber or playing professional Rugby, I want to be wearing something that is tough and durable but that looks good at the same time. I've now tested the Trojan range in the toughest of conditions and it passed. The clothes and trainers were really comfortable and the jacket, in particular, kept me warm as it was quite windy at the top of the Orbit! I can see Trojan is 100% designed for the job and I'd be happy working in this gear all day."
Lee Morton, brand and sponsorship manager for Trojan Workwear said: "We are delighted to announce this exciting partnership between Trojan Workwear and England Rugby League. Tough conditions need equally tough gear and that's where Trojan gets the job done each and every time. Combining comfort and performance with innovative features designed around specific workwear needs, no matter what you throw at it; Trojan is more than ready for the challenge. Just like the England players, we know what it takes to work hard and tackle the toughest jobs."
RFL director of performance and coaching Jon Roberts said: "We are delighted to welcome Trojan Workwear as a key supporter of England Rugby League. Rugby League is a tough, physical game and I think these attributes resonate well with the qualities of the Trojan brand that 'Looks Good, Works Hard."
Trojan Workwear, exclusively available from Arco, offers a range of hard wearing, stylish and comfortable workwear and is the first choice for tradesmen.
OTHER ARTICLES IN THIS SECTION