ARTICLE
A whole lot of dough
03 July 2015
Weston Handling Consultancy (WHC) has designed and manufactured special purpose trucks for lifting and turning bulk dough hoppers at Jus-Rol pastry, the British manufacturer of frozen pastry.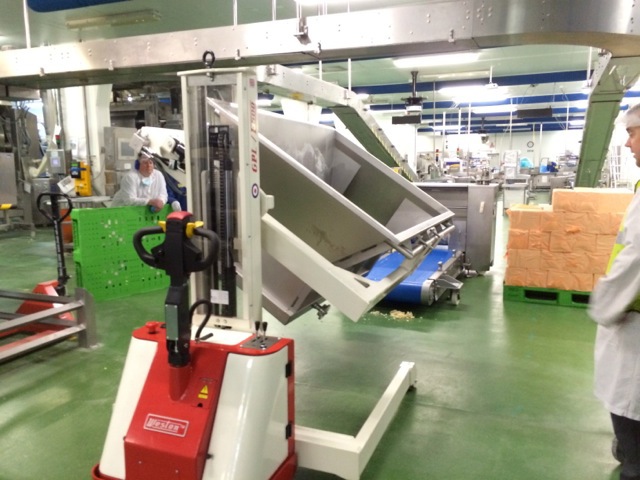 The cleaning of dough hoppers was a time-consuming and difficult operation for staff at Jus-Rol, as well as a health and safety hazard. Because of their 3 metre cubed bulk and Ca. 250Kg weight, the stainless steel hoppers took around six people to manhandle them from their location, onto a pallet for transportation to the cleaning area. They then had to turn the hoppers several times to ensure all parts were properly cleaned and then the same operation in reverse was needed to put them back into service.
The Weston Dough Hopper Lifter-Turner from WHC is designed to eliminate manual handling and transportation, in one go. It is fitted with bespoke, rotating lifting arms, mounted onto a fully powered Weston GPL/E1000, Pedestrian Stacker truck. The rotating arms locate onto the hopper's existing lifting handles where they are locked in place by spring-retained pins. Then the arms are simply raised and the dough hopper driven to the cleaning area, carrying the hopper. It can be rotated a full 90 degrees, in increments, exposing all parts for cleaning and inspection.
WHC also supplied General Mills with a 300kg Reel Turner.
OTHER ARTICLES IN THIS SECTION