Online safety check
04 June 2015
Using sub-standard personal protective equipment that does not deliver the safety benefits it promises can have devastating consequences.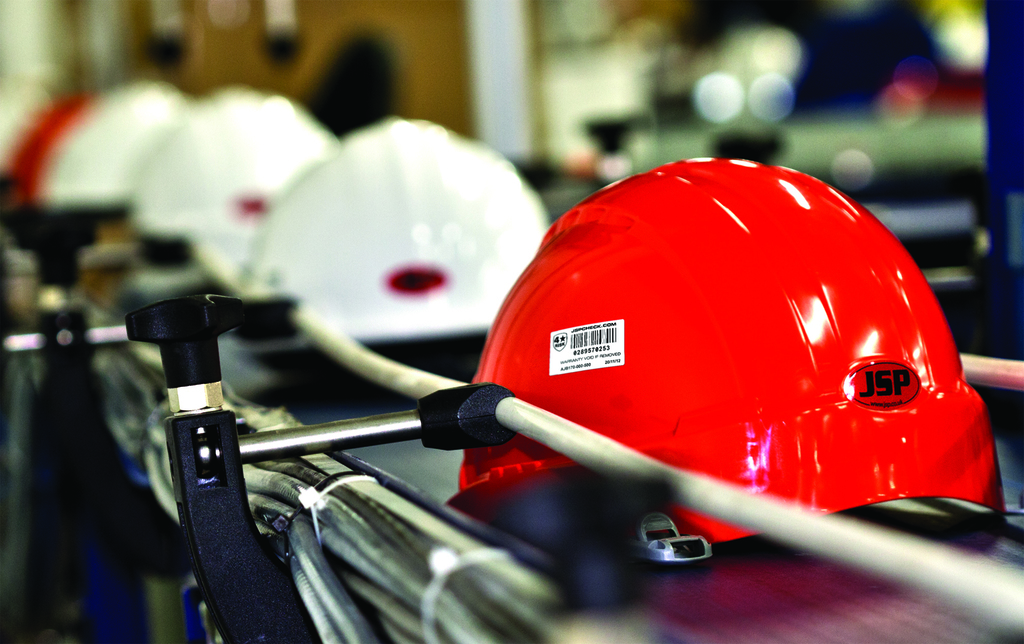 Serious and even fatal injuries have occurred because the head protection being worn by the victims did not meet British and European safety standards.
To address the proliferation of cheap, illegal and counterfeit products in the market JSP offers not one but two methods via which the millions of wearers of its helmets can check they've got the real thing and are fully protected.
First is the highly distinctive and instantly recognisable 'shield' shape on the front of every industrial safety helmet from JSP. The shape of the Shield badge of identity has evolved over the last 40 years and is unique to JSP. Its purpose is to allow JSP products to be clearly identified as the genuine article and thus trusted by procurers, site managers and users to provide outstanding head protection because of their exceptional quality and durability.
Because each JSP helmet is unique, wearers can also use the company's pioneering online tracing and verification system, JSPCheck, to determine the authenticity of their head protection.
JSPCheck uses the helmet's unique individual manufacturing barcode to access the full product traceability system operated throughout JSP's production cycle. Performing the check is quick and straightforward. Simply go online to www.jspcheck.com and enter the helmet's model, colour, serial number and date of manufacture – all moulded into the underside of the peak, or on the manufacturing barcode. After clicking 'verify', you will receive an e-mailed response from JSP in less than a minute.
JSP's helmets are manufactured and tested under both the ISO9001:2008 Quality Management System (QMS) and the British Standards Institution's (BSI) Kitemark scheme. They meet, and significantly exceed, all relevant international performance standards.
JSP's technical director, Matthew Judson, says: "We urge wearers of industrial head protection to look for JSP's Shield badge of origin and use the unique online JSPCheck system to verify the quality and performance of their helmets. That way, they know they will be protected at work and avoid vulnerability to serious injury, should the worst happen."
More information is available at www.jsp-shield.com or www.jsp.co.uk, by emailing uksales@jsp.co.uk, or by calling +44 (0)1993 826050.

OTHER ARTICLES IN THIS SECTION