Free e-book
05 December 2014
Noise monitoring experts Cirrus Research have launched a free e-book explaining the five biggest Noise at Work mistakes made by employers.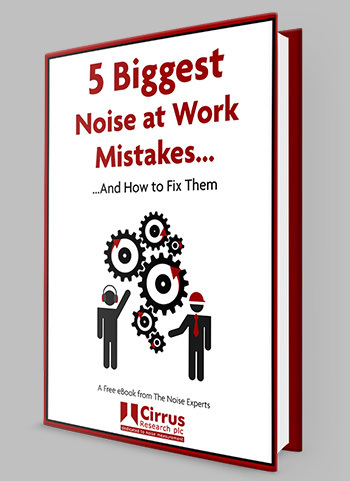 It's also a step-by-step guide to completing a Noise At Work Risk Assessment, taking you through the necessary regulations, pitfalls and potential noise monitoring instruments that will get the job done.
Cirrus aims to take the pain out of the process with its in-house noise experts creating the free eBook - 5 Biggest Noise at Work Mistakes and How to Fix Them
It is ideal for those just setting out on the first noise risk assessment; taking the reader all the way from the Control of Noise At Work Regulations 2005 through to making accurate readings so potential noise risks in the workplace can be addressed.
By following the best practice guidelines will help to ensure compliance with the Regulations and avoid liability from the HSE as well as potential compensation claims from Personal Injury Lawyers under 'Industrial Deafness'.
What's in the Noise At Work Guide:
· Why we need to measure noise at work
· What you need to do to comply with the Regulations
· How to start a noise risk assessment in your workplace
· What to consider when choosing the right equipment
· Avoiding common measurement mistakes
· Ensuring your readings are accurate and compliant
· Tips for reducing workplace noise
OTHER ARTICLES IN THIS SECTION