ARTICLE
Cirrus goes to Glastonbury
03 September 2014
Cirrus Research sound level meters and Dosebadges were recently used by one of the UK's leading noise specialists to measure acoustic levels at the world famous Glastonbury Festival.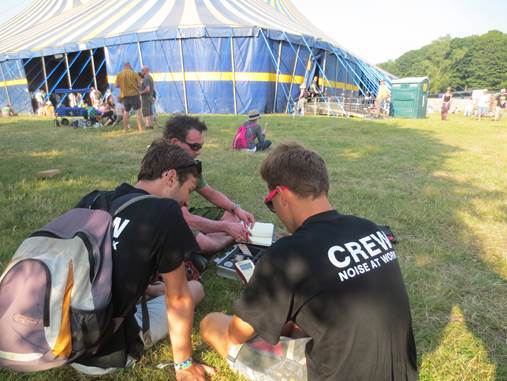 Richard Willson, a Noise at Work Consultant for TESS, The Event Safety Shop, had to ensure Noise at Work Regulations 2005 and noise limits were monitored and adhered to, to ensure the well-being of Festival employees and concession staff during the 5 festival.
The sheer size of Glastonbury covering some 900 acres posed a challenge with Richard employing some innovative tactics to ensure his noise measurements were accurate and valid. The equipment he used included 10x doseBadge and 1x Optimus Red sound level meter
He explained: "Recent changes to the Noise at Work regulations meant that they now apply to festivals so my work begins with a visual survey of the site to pinpoint where we see a need for ear protection in noise hot spots and estimate how many staff will need ear plugs or other protection.
"Using the data, we created a noise map of the site and then work up red, amber and green zones which range from constant noise levels that require mandatory ear protection to be worn, through to warnings of intermittent excess noise or low risk areas. We are then monitoring constantly throughout festival and aim to have over 70% compliance as a general rule of thumb to cover everyone from festival staff, traders and concession employees."
OTHER ARTICLES IN THIS SECTION