Massaging insoles
22 August 2014
Walking on hard tiled or concrete surfaces takes its toll on the feet as well as the ankles, knees and lower back. This constant pounding can cause pain, discomfort and fatigue.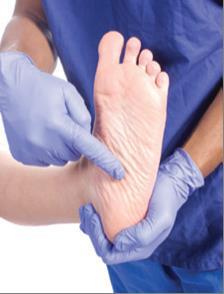 We aren't helped by our footwear which offer no support to the arch and over time serious disorders like arthritis, heels spurs and plantar fasciitis can occur leading to people taking lengthy periods of time off work.
Sole Mates massaging insoles can help. Instead of using gel or foam they use a bladder of liquid glycerine as support for the foot. Moulding to the individual foot the insoles provide support to the arch as well as the heel and ball of the foot, spreading the weight more evenly. The fluid acts like a shock absorber in the shoe, relieving pressure on the joints.
The movement of the fluid gently massages the muscles in the foot, increasing the circulation and helping to reduce tiredness caused by standing or walking.
Stand H36
OTHER ARTICLES IN THIS SECTION