Home
>
Do you recognise this man?
Do you recognise this man?
01 July 2014
Health and safety managers who are used to being challenged on their procurement recommendations may recognise some of the characteristics of the star of 3M's new parody video campaign, a lackadaisical purchasing manager called Barry.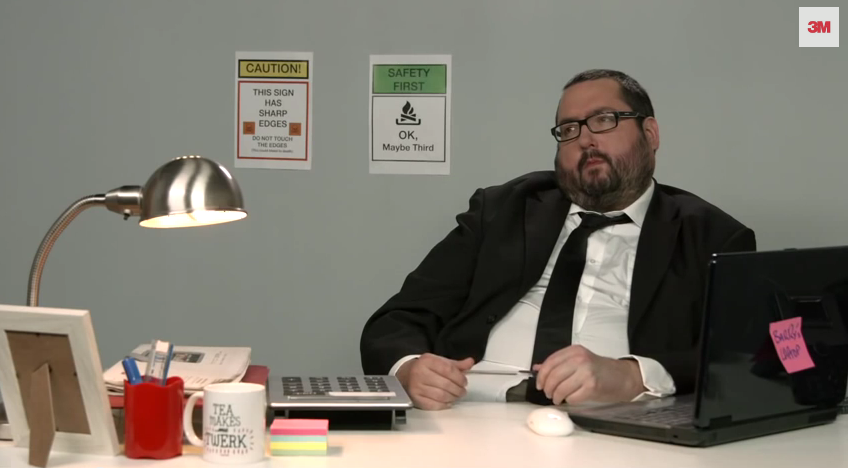 While the star of the Wise Choices campaign, Barry, played by Ewan Macintosh who is famous for portraying Keith in The Office, is a completely fictional character he personifies the resistance that health and safety personnel can come up against when specifying PPE.
Barry communicates the laughable but highly recognisible opinion that health and safety and personal protective equipment (PPE) is purely red tape, and shares with viewers his personal take on keeping staff safe.
The campaign aims to help companies understand the detailed considerations that take place when it comes to occupational health and safety. Comprising a series of ten short videos, each Wise Choices snippet focuses on a different element including legislation, the selection of PPE, safety culture and whether PPE affects productivity in the workplace.
Commenting on the videos launch Robert Green from the Personal Safety Division of 3M said: "The Wise Choices campaign is an amusing insight into a character's flawed knowledge and awareness around the decisions that he is taking that directly impact the health and safety of his workplace. However for many it will also echo comments or opinions that they have heard before when a health and safety manager makes a decision which is not adequately supported by every function within the business. We envisage these videos being used as a prompt to ensure all stakeholders take safety decisions seriously.
"In the Personal Safety Division, we have made protecting individuals in the workplace our mission for over 40 years, and we want to communicate to customers not only the risks in the workplace, but also the risks posed when individuals have a lack of knowledge or awareness in protecting the workforce."
RELATED ARTICLES
No related articles listed
OTHER ARTICLES IN THIS SECTION