Lid stays up
08 May 2014
Leafield has launched a bin with a stay up lid which the company says is faster, less messy, easier to clean, and much more practical in busy kitchen and restaurant environments.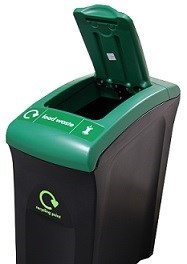 Leafield business development manager Gary Mills explains: "The idea was developed because of feedback from Loughborough University's catering team. Together we developed the idea for a magnetised lid which would stay open making it easier to dispose of food cleanly and safely."
Loughborough University went on to order 600 of the bins.
The new lid can be bought separately or together to fit the Envirobin Mini and Midi.

OTHER ARTICLES IN THIS SECTION