Waterproof case protects instruments
31 July 2015
In Wild Water Racing, Great Britain has a long established history of competing with distinction at an international level.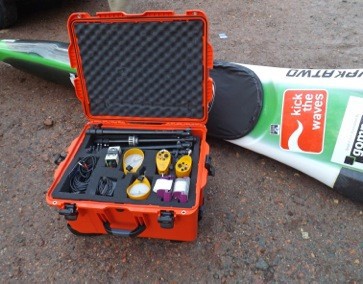 GB WWR have chosen to transport their timing equipment, to and from races throughout the UK & Europe, in the safety of a Nanuk portable waterproof protective case.

As the kit incorporates costly and fragile components, the team was keen to provide it with optimum protection and transport it as a single unit. The total weight of contents was some 30 kilos so a case with integral wheels and pull handle was preferred.

The Nanuk 960 meets the requirements with an internal dimension of L559mm x W432mm x H328mm. Waterproof and dust proof to IP 67 and manufactured from impact resistant, NK-7 resin, NANUK durable, hard sided cases are built to absorb the shocks without damaging the case or its contents. The patented PowerClaw latching system is engineered to keep the case closed, but open it easily with one hand.

"In the waterside environment in which we operate, its reassuring to have a completely waterproof case," said Jon Finch of Wild Water Canoeing. "It keeps the kit 'all together' and makes set-up quicker and easier. I'm sure we couldn't have chosen better protection."


OTHER ARTICLES IN THIS SECTION